I'm not always a fan of technological advancements and new ideas. Some seem ill conceived or forced. Solutions to non-existent problems are everywhere you look. Some threaten to throw a wrench into the complex mechanism that is the global economy and our constitutional republic. There is no shortage of harebrained ideas born of what some consider to be technological advancements. On the other hand, and now that I've vented, a great many tech advancements have been godsends and I embrace their value wholeheartedly. Toilet paper, polio vaccines, clean drinking water, combustion engines, smart phones and the proverbial sliced bread come to mind. Technology can be a breath of fresh air, even for skeptical people like me. Innovation in the hunting and fishing world are always of interest so perhaps I'll focus my energy there.
Even though it's not a new technology anymore, perhaps the most important innovation in fly-fishing, in the last 20 years, is the breathable wader.
Rods and reels look fancier and utilize advanced materials to boost performance but they still function, more or less, like they did a hundred years ago. The same can be said for fly lines, vests and tools, flies, leaders and most other accoutrements of the sport, though a whole article could be written on the advancements in flashlight technology…but we'll leave that subject for another day. Aside from breathable waders there hasn't been many ground breaking technological advancements in fly-fishing…which is just fine with me. Fly-fishing is an archaic and esoteric hobby that reeks of, and intrinsically benefits from tradition after all. Without a constant touchstone to its rich history and nostalgia, fly-fishing might lose much of its appeal for me.
There are a few companies that make and sell what I would consider top quality breathable waders. There are also many that make and sell low quality breathable waders. We'll focus on the former. Top quality is what I consider to be good enough to last at least a couple of seasons working as a guide. This is the lens that I view waders through because I worked as a guide and I know the abuse and rough conditions that waders will be exposed to. Day in and day out exposure is the true test of gear. If a pair of waders will last for two years, worn by a typical guide doing typical guide things like walking miles every day, busting brush, fording snaggy currents and jumping in and out of a boat innumerable times, those waders will last a typical recreational fly-fisherman many seasons.
Most quality breathable waders are the stocking foot variety. Stocking foot waders are great for all day comfort. They allow the use of whatever boot an individual prefers, with a sole to match whatever conditions, or regulations may apply. About half of my fly fishing is in stocking foot waders. If I'm traveling to fish, it's almost always stocking foot waders, if for no other reason than their packability.
There are times when a boot foot wader is my preference. I've spent countless days fishing, and hunting, in every type of boot foot wader that has been available over the last 45 years. In terms of boot foot waders, I want nothing to do with rubber or even neoprene anymore. I've had my fill of both.
A breathable boot foot wader, with all the features and durability required for guide duty is what I desire. I spend a lot of time in waders in the cold months, fishing for salmon and steelhead, or perhaps duck hunting. Boot foot wader are a LOT more convenient for those activities compared to stocking foot. They're also a LOT warmer in cold water. In fact I find them to be warmer than thick neoprene waders if used with the proper layers. Neoprene waders are warm…until they build condensation inside and turn into a cold clammy mess. They're also not the easiest things to walk around in, a hard lesson I learned one summer 25 years ago guiding in Alaska, where I literally lived in a top quality pair of neoprene waders, walking over miles of tundra and wading through miles of icy rivers every day. I recall that I lost 34 lbs that summer despite consuming about 5,000 calories a day, thanks in no small part to those hot and heavy neoprene waders.
There are only two providers of top quality breathable boot foot waders that I'd trust. Only one of those is readily available off the shelf with standard sizes to fit just about anyone. The other is only available as a custom, non-returnable product, with an extra premium price tag.
The Orvis Clearwater breathable boot foot wader is a very well made wader from a company that stands behind their waders better than any others. At just a little more than half the cost of Orvis' top of the line "Pro" series waders (not available in boot foot), the Clearwater boot foot is what I'd deem "Guide-worthy".
The Clearwater has four layers of breathable material to provide excellent durability. It has really useful pockets, including a very warm and well designed hand warmer pocket and stretchy mesh pockets great for tippet spools, small boxes or car keys. Opposing side release suspender buckles allow for quick and convenient transitions to a rolled down "waist high" conversion, using the shoulder straps as a belt. There are also good durable belt loops for use with an external wading belt, one of which is included. The seams are flat and tape sealed. The boots are felt soled (my preference for my home waters, though observe regulations in your waters, or when traveling to avoid transferring invasive parasites to pristine waters). The boots are molded rubber over a neoprene booty and offer plenty of room to layer while still being very comfortable to walk in. One of the keys to breathables being warm in cold weather, I believe, is that there's room for a layer of air inside the waders, and of course, they're breathable so they're never clammy. Stocking foot waders get "sucked" much tighter to the contours of your legs and feet and are definitely colder in icy water. Breathability is also a huge advantage over clammy neoprene, to staying warm. Overall these are really good, tough waders that only play second fiddle when packability is a big concern, or where felt soles aren't allowed. Available in a trendy silver grey color, you'll fit in on the water and at the pubs, in the small, stream-side towns where guides congregate at the end of the day.
At 6 feet tall and 240 lbs, with size 13 feet, I'm a bit beyond average sized, but I was able to order an off-the-shelf option that fits perfectly and allows complete range of motion that makes climbing up a steep river bank, or jumping in and out of a drift boat as easy as if I was wearing sweat pants. As good as these waders are, perhaps the biggest plus is that they're readily available off the shelf in numerous standard sizes and if you order a pair online, or receive these as a gift, they can be exchanged for a better fit if necessary. At about a third the price of their nearest high quality boot foot competitor, it's hard to make any other choice for breathable boot foot waders.
Another huge advantage that I appreciate the older and fatter I become is how easy it is to get into, and out of these waders. Anyone the has worn stocking foot waders knows that they can be difficult, to say the least, to get out of at the end of the day, especially a cold day. Add warm layers..and the aforementioned age and fatness and, well you get my point. Add to the equation the fact that I'm always very nervous about ruining a seam while struggling to peel an unwilling pair of stocking-foot off at days end. A few weeks back, sitting in a locker room, dressing for a summer league hockey game, a young, fit, college hockey player teammate asked me why I put on and lace up my skates before putting on my hockey pants. Patting my belly I replied, "get to my age and you'll know the answer". To anyone wondering why I care about waders that are easy to get in and out of….my reply is the same.
Boot foot waders still have a place. Orvis Clearwater breathable boot foot waders are a great choice if like me, you like a wader that is a breeze to put on or take off, with all the features and durability you need for a great day IN the water, whether you're a professional fly-fisherman…or not. Orvis.com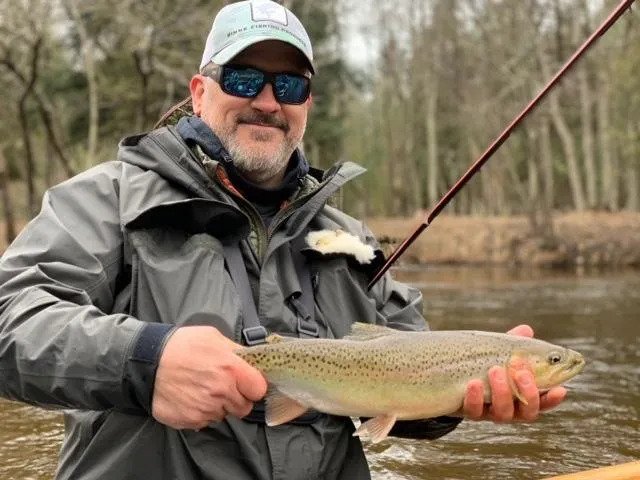 Brandon Vaughan has over 40 years of personal and professional experience in a broad array of hunting and fishing disciplines, from Alaska to Belize. Past professional experience includes working as a professional guide in Alaska and around the Great Lakes region. In addition to hunting and fishing throughout the lower 48, Canada and Central America, Brandon has been an Orvis Endorsed Fly-fishing guide, a fly-fishing and fly-tying instructor, a hunting guide and shooting instructor.