For anyone that has read this column before, you may recall our review of the Howa 1500 Mini-action bolt gun in 6.5 Grendel. It's a great rifle in its relatively low price point. Metalwork is good, as is accuracy. Overall it's a great value, it's a great design and it's a light handy gun.
About the only gripe that I had with the Howa Mini was the plastic bottom "metal" and the detachable box magazine. The release lever was in an awkward location and a slight bump caused the magazine to fall out unexpectedly. The plastic stock, while well made, with comfortable dimensions, is heavy and, well…plastic. There are aftermarket stocks available for the Howa mini action but most are more of the tactical variety in the form of aluminum chassis systems. Nice but more military, long range shooting style, and they're not as light, compact or as traditional as what I wanted.
Well, there's now a major upgrade available to anyone that owns a Howa mini-action bolt gun in 6.5 Grendel, 7.62×39 or in .223, the three options in the mini action.  Oregunsmithing LLC of Pendelton, OR., (oregunsmithingllc.com) is now making an ultra-light carbon fiber stock AND aluminum bottom metal, with a hinged floor plate to replace the factory plastic stock and plastic bottom metal/box magazine set-up.
I wasn't a fan of the detachable box set-up or the fact the action bolts on the OEM stock tightened down a plastic frame that formed the trigger guard and magazine well. I really wanted to turn my Howa 6.5 Grendel into more of a mountain rifle, with a slim light composite stock and traditional hardware. I even stated that exact desire in my previous review.
The 6.5 Grendel is a fairly remarkable round. It's plenty potent for deer, typically throwing 120ish grain bullets at or around 2,600 FPS. The 6.5 diameter bullet offers plenty of frontal area and sectional density to make for very serious hunting work, and 6.5s are known for great ballistic coefficients which makes for great long range target capability. In short, the 6.5 Grendel is, in my humble opinion, a great candidate for a custom mountain rifle, due in large part to the ultra-light and compact "mini" action.
When I discovered Oregunsmithing, I quickly made a call and reached Wayne York, owner/operator of the company. Details were discussed, a stock color was picked from the list of options that Wayne offers and the stock (in Flat dark earth, with black and tan spider-web camo color), and bottom metal were ordered. Wayne is really busy and he estimated that it would be about 8 weeks for delivery. I was pleasantly surprised when my stock showed up about 6 weeks later.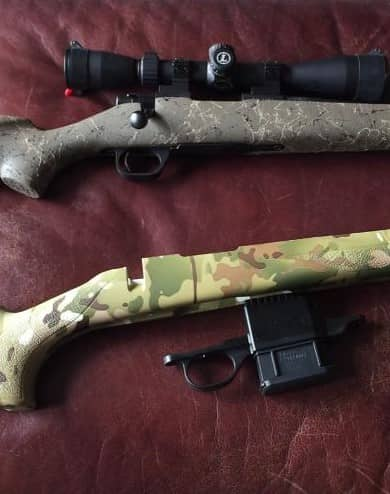 Unboxing the goods, I was amazed at how light the stock was. Just 18 ounces! The black Cera-coated aluminum bottom metal, which included the frame, trigger guard, hinged floor plate, spring, follower and internal 26-gauge steel cartridge box, was as light as a feather too. Everything is designed for a drop-in fit with the Howa action and barrel, using the factory Howa action bolts, which are really nice with large Torx drive heads. Without hesitation, I unbolted the factory stock from my gun and slid the action into the new carbon fiber stock. Everything went together without a hitch. Action bolts torqued to specs and viola, I was holding a feather weight mountain rifle. Glass bedding isn't necessary, (though I may bed the action ultimately), the fit is snug and neat. My Howa, which was originally ordered with the lightest of the three barrel contours available in the 6.5 version, came with a pretty good, adjustable factory trigger. I added a set of ultra-light Talley scope mounts and a very light Leupold 3x9x40 scope with a set of custom dials matched to the 6.5 Grendel ballistics, all already in place from the original set-up of the rifle. All up, the simple stock and magazine conversion saved almost 2 lbs from the finished gun…..2LBS!! That's a huge improvement! Not convinced?, carry 2 lbs up a mountain and see how long it takes for 2 lbs to feel like 20. It won't be long.
The Oregunsmithing carbon fiber stock is also slimmer and shorter, overall then the factory stock. It sports a ½" Decelerator butt pad which saves weight and is plenty for the ultra-light kick of the 6.5, 1" pads being more of the norm for heavier rounds. One surprising feature of the stock, which is for a right-handed action…and shooter, is that it has a bit of cast-off, like a proper English bolt rifle from the likes of Holland, Rigby or Purdy. A bit of cast off makes for an extremely comfortable and natural shoulder mount and cheek weld.
This is now the lightest centerfire rifle that I own and I wouldn't hesitate to use it on any mountain hunt, for any likely mountain species. I think it's viable for anything up to and possibly including elk, when using the right bullet and using good judgement related to your maximum effective shot range. Real mountain hunts, for game like sheep or goats, Tahr, Chamois or even mountain caribou, which are damn big compared to the former four species, seem like they require long range shooting but in reality, don't usually require shots beyond 300-400 yds, and generally only require a much closer shot. I think the 6.5 Grendel, with the right bullet, something like the Barnes 127 grain Long Range lead-free bullet, can handle those duties. Barnes lead free bullets offering great penetration, perform above their weight and caliber class. If you just hunt deer or antelope, a light gun is always a welcome benefit too. When in the mountains, the lighter your gear, the better. That applies to every piece of gear. As a kid, I was a serious minimalist backpacker in part, having read and re-read the great book by Colin Fletcher, "The Complete Walker". Fletcher was the minimalists minimalist, famous for light-weighting his gear to the nth degree, going so far as to cut the paper tabs and strings off the tea bags and the tags out of his skivvies.. If you're one who likes to climb mountains in pursuit of game, there is no such thing as "too light".
If you own, or aspire to own a Howa 1500 mini action rifle, which is a damn fine, inexpensive gun to start with, you can make a major improvement to its weight, aesthetic and functionality by simply converting to an Oregunsmithing carbon fiber stock and aluminum bottom metal. Give Wayne York a call at 541-278-4177 or e-mail him at oregunsmithingllc.com They offer custom and tactical stocks to fit a variety of factory rifles. They also offer full custom builds and barrel re-boring. If you're embarking on a custom project or just looking for a carbon fiber stock to update your rifle, talk to Wayne. You'll be happy you did.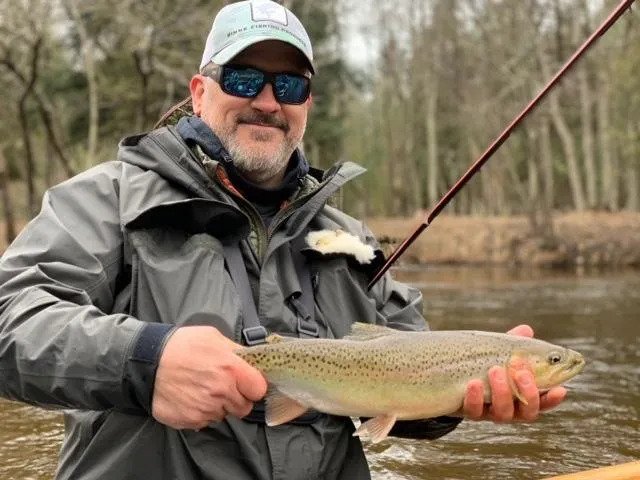 Brandon Vaughan has over 40 years of personal and professional experience in a broad array of hunting and fishing disciplines, from Alaska to Belize. Past professional experience includes working as a professional guide in Alaska and around the Great Lakes region. In addition to hunting and fishing throughout the lower 48, Canada and Central America, Brandon has been an Orvis Endorsed Fly-fishing guide, a fly-fishing and fly-tying instructor, a hunting guide and shooting instructor.