If you're a serious and avid fly-fisher, you'll likely know the name Simms – Simmsfishing.com.  You'll also likely know that wader quality matters, because you've also probably had waders that didn't live up to your expectations if you've been at it for a while.
I've been fly-fishing, and wading in lakes and rivers long enough to have used all manner of waders, going back to the days that rubber waders were the height of the technology. Fishing in February in Michigan for steelhead in rubber waders is an eye opening experience. It was accepted that you would spend much of the day completely unable to feel anything below the waste, and would almost certainly have to build a fire on the river bank to regain enough sensitivity for the long walk back to truck when you were unable to endure any longer. That was the reality.
Long suffering Fly fishing devotees who fished for winter steelhead, or traveled to cold places like Alaska fell head over heels for Neoprene waders when they hit the scene in the 80s. They were a huge improvement in chilly water and some quality brands appeared and hung on for a while, and the fly-fishing industry grew in leaps and bounds right then. I think there may have been some correlation in opening up the sport to people that avoided death by hypothermia, and the boom that the sport saw. For those of us that were not smart enough to avoid death by hypothermia, it was interesting to watch our old fashioned sport blossom into the "semi-mainstream", and how fast the rivers became full of people in neoprene waders.
Neoprene had its shortcomings though. Weight, heat and a total lack of breath-ability to name a few. Along came breathable waders and the industry again went nuts for them, and newbies flocked to the sport too, perhaps in part, due to this innovation….(and probably because of some big Hollywood movies that featured fly-fishing). I've said it before, and I'll say it again. Breathable waders are by far, the best new technology to hit the fly-fishing industry in over a hundred years. People figured out that they were pretty warm in cold water with proper layering because of the breathability, and they were cool and dry to wear in hot weather for the same reason. Of course breathable waders are now old news. If you're under 40 years of age, you've probably never used anything else.
All is not equal in the world of breathable waders. As with any new "technology", copycats and bargain brands will flood the market, so knowing the good from the bad is still important. Quality construction and features make a difference in choosing the right wader. Luckily there is a way to avoid mistakes when choosing gear, and it's pretty easy. Stick with gear that has a great reputation among professionals. In the case of waders, specifically breathable, stocking-foot waders and wading boots, it's as simple as asking for Simms!
I think it's safe to say that Simms waders and boots are THE benchmark, especially among guides and pros. My benchmark for waders is that they're made well, fit well, have the features that I need, and that they survive a few seasons of guiding. Guides are tough on gear because they use the gear day in and day out, in just about every weather condition, while doing the heavy lifting necessary to provide a safe, fun and successful day for their clients. 3 years of guiding is equal to 10-15 years of use from a guy that fishes 10-20 days a year, in terms of abuse that their respective gear receives.
Simms G3 Guide stocking foot waders and G3 Guide boots are really the best in their category and can, and do live up to the name "Guide", with all the features that I need.
Large padded suspender straps, with the now ubiquitous opposing buckles that can clip together to act as a belt if you want to roll the waders down on a hot day. They feature a large zippered, center storage, stretch pocket, and hand-warmer pockets with a soft comfortable lining….important during winter steelhead season when, as guide, your hands are raw and mangled from pulling drift-boat anchor rope, rowing the boat and handling icy fish and water all day, every day. There's also a very useful interior pocket perfect for car keys, phones, tippet spools and other gear. It can be flipped out, or kept inside, and is removable by zipper and snap. Being a mesh material the removable pocket lends itself well to holding and dispensing tippet material. The waders feature a triple layer Gore-tex Pro upper, and 4 layers of Gore-tex Pro on the legs, with improved breathability and durability. A large, wide, stretchy belt is included as are durable belt loops to keep it in place. The belt is so wide and sturdy that it almost acts like a weight lifters support belt, which is very useful for guides, sore backs being ubiquitous to the profession.
Articulated knee, crotch and leg seams make for a very comfortable fit, ease of movement and wader ingress and egress. Highly cushioned and ergonomic neoprene boots which include an anti-microbial coating and attached, abrasion resistant neoprene gravel guards, round out the package. The build quality is unsurpassed, and that may be the most impressive thing about the G3s. Features are great but if waders aren't durable, what's the point? I've never found any waders with better build quality than the G3 Guide….period.
I'm not always able to find gear that fits just right, but Simms has many size options, off the shelf, for their stocking foot waders and boots, (and newly introduced, non-custom, boot-foot waders as well). At 6' tall, 235lbs with size 13 feet, a 33" inseam, 36" waist and 48" chest, and what my mom used to refer to as "tree-trunk" legs, I'm a little more Neanderthal shaped than most… Yet an off the shelf XL wader and size 13 boot fit perfectly. Neither of which are too loose or too tight anywhere. Pretty remarkable actually. There's enough looseness in the wader to allow for easy "in and out" of a drift boat, or for climbing up steep river banks, without any bagginess or extra material to cause annoyance wading or walking, AND someone a bit taller and rounder than me could probably do well with the XL too, though there are "Tall" or "Short" options for most of Simms sizes. The boots, while large (because of my large feet), look like they might be awkward and inflexible, but are actually very supportive, comfortable and sure-footed, with great "feel" on river bottom, trail and in the boat. Built of highly abrasion resistant textiles and water-proof "Nubuck" Leather, mine are felt soled, because that's the best option for most of my wading…and boat duties, but other options, like rubber or cleated are available. Cleats can be added to the felt soles, screwed into pre-marked locations on the sole, but as they're tough on drift boat gel-coat, I haven't added them so far, though there are some especially slippery rivers that I fish where I'll likely add them. (Choosing felt soles should be considered in line with the various restrictions having to do with the transfer of aquatic diseases, parasites and algae. Some places don't allow felt, as a step to avoid introducing undesirable pathogens into pristine waters). My felt soles are very "grippy" and confidence inspiring on river bottom cobbles. Notably, the boots are also very easy to get into and out of, which can't be said for all wading boots. I've owned, worn out or rejected, 12-13 pairs of wading boots in the last 45 years. The Simms G3 Guide boots are hands down the most comfortable, and seem to be constructed better than any of the others. I'd be surprised if they didn't serve 8-10 years of extreme guide duty.
If "Extreme" describes your stocking foot wader and wading boot requirement, or if you just want waders that will serve you well in your pastime, without any faults, Simms is the default brand and the G3 Guide waders and boots should be on your radar. They are my first choice. Aside from the quality construction, they look great too. They're comfortable after 10 hours on the river, and in the bar afterwards……in those small towns where wearing waders into the bar is a normal thing…if you've been there, you know. Do yourself a favor the next time you're in the market for waders. Check out the Simms G3 Guide stocking foot waders and boots. There are none better suited to the chores for which they are intended. Simmsfishing.com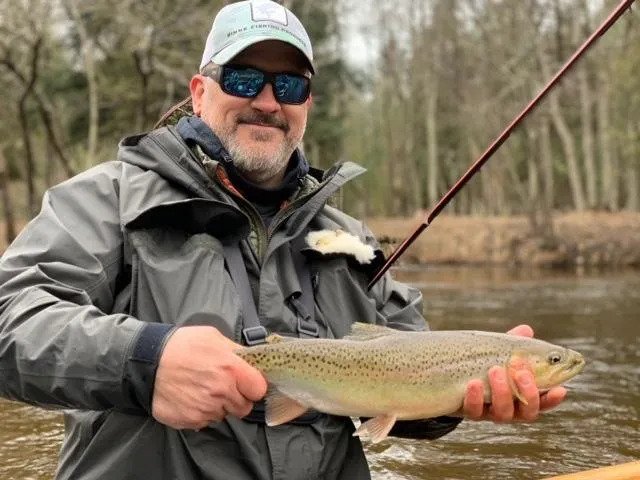 Brandon Vaughan has over 40 years of personal and professional experience in a broad array of hunting and fishing disciplines, from Alaska to Belize. Past professional experience includes working as a professional guide in Alaska and around the Great Lakes region. In addition to hunting and fishing throughout the lower 48, Canada and Central America, Brandon has been an Orvis Endorsed Fly-fishing guide, a fly-fishing and fly-tying instructor, a hunting guide and shooting instructor.