I recently had the pleasure of trying out two new products from the Muck Boot Company. The Artic Ice knee-high boot and the ankle high Outscape Chelsea waterproof slip on shoe. Two very worthy products. Muck is well known for their high quality neoprene barn and hunting boots. Muck has been a top provider of knee high, pull on, scent free, neoprene, camo hunting boots which are popular with deer hunters who need something that's warm, waterproof, camouflage, and will work to contain scent.
Full disclosure, I've been using a pair of Muck Woody Elite boots for about 12 years…..and I love them, and they're still going strong despite very heavy use, primarily when I'm bow-hunting. They've climbed countless trees, walked countless miles and busted all types of brush with very little sign of giving up the ghost. There is a very slight amount of fade to the camo, and a tiny amount of wear on the sole, but neither enough to retire these work horses. They're comfy, warm and waterproof…and I believe they are a major factor in keeping my scent contained while walking to my tree stands, an issue that I'm a bit obsessive about. Many of the other brands in the category, (knee-high, waterproof camo boots), wouldn't even pass the "scent-free" test while boot shopping, because most reek of freshly vulcanized rubber. Muck is one of the few brands that smell like nothing, right off the shelf. They pass the "sniff test" where most others don't.
I would never say there is a downside to my old Muck boots, but the new Artic Ice neoprene camo boot does have a couple of improvements to the old tried and true model that I've come to appreciate so well. I don't know if it's due to my Swiss heritage, years of football, hockey and skiing…or perhaps the miles I've put on while bird and deer hunting….or maybe higher than normal Neanderthal DNA, but I have larger than average calves. About the only time this proves to be an issue for me is when I'm wearing heavier than normal hunting pants, in the dead of winter, and I want to tuck them into my knee-high boots. My old Muck boots are fine with normal camo, bow-hunting type trousers, but they get a bit tight with the extra heavy stuff.
The new Muck Artic Ice XF AG "wide calf" model in Realtree Edge camo, which is the subject of this review solves that problem. Whereas my old model has a non-adjustable top, the new Artic Ice "wide calf" allows for a lot of extra layers to be easily tucked in. A bit of extra material and an adjustment strap at the top edge of the boot make tucking my heaviest insulated hunting pants, a breeze. The new Mucks are also a heavier 8mm neoprene and incorporate more insulation for comfort on stand on the coldest of days. No clod-hoppers these, they're also very comfortable to walk in too, like my old Mucks….a major factor in choosing Mucks over the competition initially. They fit and hold my foot in all the right places and flex just right when walking, and they're relatively light weight so as to be quite un-noticeable, at least until you notice how warm and comfortable they are. With fleece lining and Vibram "Artic Grip" and "IceTrek" technology in the sole, these are toasty and sure-footed. Walking to and from my tree stand allowed the typical sneaking and tip-toeing that I find necessary, with none of the frankenstein-ish stumbling and crunching that many competitive boot brands make impossible to avoid. An anatomical ankle that flexes where you flex and a grippy sole round out the model to make for just about the perfect knee-high "rubber" camo boot. The Artic Ice model, as the name implies, is targeted at cooler weather situations and as such could be a bit too warm for parts of the world that see hot temps during hunting season, but if you're in one of those areas, Muck makes a lighter boot that'll fit the bill, and I'm confident they'll be as tough and durable as mine have proven to be. If like me, you're in Northern climes, you'll appreciate the Artic Ice from Muck. It passes all of my critical evaluations.
A totally new offering from Muck is the new "Outscape" waterproof shoe, available in an over the ankle "Chelsea" or a below the ankle "Low" model. I was initially interested in the over the ankle Outscape Chelsea as a waterproof shoe to wear for early season walleye and steelhead fishing, in either my walleye or drift boat. Early season where I live and fish translates to cold and often wet weather. Warm layers, rain suits and waterproof footwear are a must. I typically have a dedicated pair of waterproof boots for this purpose. Dedicated because I don't want a tall boot, or a lace on boot for this duty. In addition to being waterproof this type of boot needs to be slip-on…and more importantly, "kick-off". In the event of an accidental "overboard" situation, it's good to be able to quickly kick your boots off so you can swim and effect a "self-rescue". Doing so while wearing boots is less than ideal. Dedicated too because these boots will get used hard and WILL be fishy before too long.
Herein lies the only problem with the Muck Outscape….one pair will not suffice. They're so nice and light and comfortable…and good looking, that you'll want to wear these for a hundred other uses that involve wet, cold or snowy conditions.
The design of the Outscape is tough to define, but perhaps classifying it as a waterproof, ankle-high, slip-on running shoe would be the most accurate. It's a neoprene bootie with a molded vamp and running shoe type outer sole that is very flexible, grippy and light. They're very comfortable for any activity. I found myself gravitating to the Outscapes for every thing around my house, which is a bit out in the country. A walk to the barn in the morning dew. A trip to the mail box on foot or a quick trip to town for groceries. For all but the hottest and driest months of the year, which only equates to about 3 months of the year, these are the perfect shoes. The remaining 9 months in my home territory will see these shoes used constantly.
Available in brown and camo for men and other colors for women, the Outscapes can fit in at deer camp or just as casual wear around town, anywhere that's a bit damp or cold. They don't stand out as boots and look good with jeans, but they do serve "boot duty". There is also an Outscape "Low" model that looks for all intents and purposes, just like a running shoe, with a lower, below the ankle fit. So, I will now need a pair for "work", on the boat, and a pair that can live in the house safe from fish slime and the like….maybe even a third pair for running or the gym. I anticipate that I'll be wearing these from October through May, on an almost daily basis. A very innovative, new and welcome design from Muck.
Both the knee-high Artic Ice, and the ankle high Outscape Chelsea that we've tested get high marks from this very picky hunter/fisherman. The fit is pretty true to standard. Our staff tried mens size 11 and 13, both in line with the typical size required by those of us that "tested" them, (I tried size 13 Artic Ice and Outscape Chelsea and staffer Steve tried….and hasn't taken off, a pair of Outscape Chelseas in size 11. I think he may sleep in them). Check them out at Muckbootcompany,com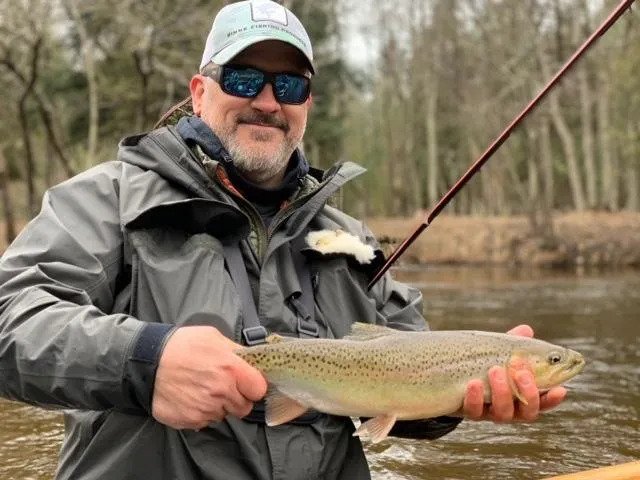 Brandon Vaughan has over 40 years of personal and professional experience in a broad array of hunting and fishing disciplines, from Alaska to Belize. Past professional experience includes working as a professional guide in Alaska and around the Great Lakes region. In addition to hunting and fishing throughout the lower 48, Canada and Central America, Brandon has been an Orvis Endorsed Fly-fishing guide, a fly-fishing and fly-tying instructor, a hunting guide and shooting instructor.