As a kid, I lusted after a Winchester model 94 lever gun in 30-30. It was the gun that almost every other deer hunter in the Michigan woods carried. It was standard in every old black and white photo from deer camps gone by. It was good enough for Grandad, it would be good enough for me, and besides there was no better way to feel like a real cowboy. It was a gun I'd be proud to own.
Well when it came time to buy my first hunting rifle, with my own money, I went to the best source that I knew of, my uncle John. Uncle John was a real gun collector and the only real hunter in the family. He lived in Houghton, in Michigan's upper peninsula. which was 12 hours from our home in suburban Detroit. As far as I was concerned, he was a hunting and shooting sage who lived in a wilderness paradise that might as well have been Alaska. He would surely be able to find the gun I was looking for.
I wrote a letter describing what I wanted. This was pre-internet or cell phone days, and a land line call to the U.P. would set my dad off on a rant about the high cost of "long distance" calls and as a 15 year old, my options were limited but I detailed my thoughts and needs and mailed them off to the UP. About three weeks later I received a return letter from Uncle John with 3 Polaroid photos and a letter detailing each gun and John's rational for suggesting them.
To my slight dismay there wasn't a 94 lever gun in the group. All three were bolt guns. All three were modified Mauser style Enfields. Sporter-ized WW1 "leftovers". Being ignorant, I was not impressed. After a bit more correspondence with Uncle John, it was clear that he A: didn't want to part with one of his model 94s, and B: strongly suggested that I go with one of the bolt guns for a number of pertinent reasons.
Perhaps Uncle John knew that I was passionate about hunting and guns and would need a more capable gun, or maybe he had a glut of sporter-ized Enfields. I think it was the former, but in any event I did end up going with one of the bolt actions. It was a model 1917 marked "Winchester". The other two were also model 1917s but were marked Remington and Enfield respectively, in that the design was manufactured by all three companies to serve the war effort. Ironically the "modified" Mauser action had been adopted from the German Mauser just a few years before we started shooting them at each other in WW1. The three guns were almost identical guns but the Winchester had a very nice walnut stock from Bishop and an adjustable rear peep sight. It was chambered in 30-06, like the other two. The action was buttery smooth and vault-like. It was deadly accurate with its peep sight and it was a really beautiful gun that I came to be very proud of. In my motley crew of high school hunting buddies, who carried an assortment of worn lever guns, shotguns and cheap single shot rifles, my 30-06 was coveted and I enjoyed the status of being considered a real rifleman who could make the long shots, beyond the range of a smooth bore slug gun. We tended to hunt in groups as kids and more than once, sitting in a brush blind, with two or even three buddies, someone would spot a fat doe at 200-300 yds. knowing that only the bolt gun would work. It rarely let me down and we usually enjoyed "camp meat" with our illicit beers after sunset. An important factor since we rarely had enough money to buy hunting licenses, drive North, buy beer AND food. Food was usually a lower priority from memory and besides we were hunters after all, we'd live off the land. We were all pretty thankful whenever someone's mother packed "rations" for us.
Maybe it was inevitable, maybe it was Uncle John's intervention or maybe I just liked being acknowledged as a marksman by my peers, but I became enthralled with fine guns. With rifles, bolt guns held sway and over the years I've owned many. The more I shot and hunted and the more varied my pursuits became, the more specialized I wanted my rifles to be. Before too long, factory guns, however good they were, didn't fit my needs. I wanted better triggers, better stocks, better butt pads, faster rifling, lighter actions, better bedding and more specific modifications to suit an exact application. Consistent tack-driving accuracy was always the first criteria, but some guns, in specific calibers needed to handle long range shots with heavy bullets, from box blinds, others needed to be ultra-light weight for mountain hunts, but without compromising accuracy in the unlikely event that a shot had to be taken with a "hot" barrel. Other guns were conceived of, and built just to be drop dead gorgeous, others for hunting dangerous game in harsh weather. Of course different critters require different calibers. My old 30-06 could do a lot, but it was really too much for groundhogs and impractical for coyotes. It was heavy for mountains and its wood stock wasn't good for rain and snow, if a really long shot was necessary. Options from 22 Magnum to 45-70 became necessary.
Putting together "custom" guns is interesting to me in and of itself. Like tying my own flies or building my own bows and arrows or knives and sheathes, there is a real satisfaction in using "home made" gear. Anyone that has delved into the custom gun world can tell you that it can be expensive. I'm not a gunsmith so I have to farm out some of the machining that is required. I take my time and buy the bits and pieces that I need for my projects, usually putting in a fair effort to find the best deals and parts guns, but no matter how you figure the costs, custom guns cost a lot, and don't usually provide for a good return on investment in the event that one needs to sell a gun to make way for a new project, or just to pay an unexpected bill. Building your dream gun can be very satisfying but tread lightly, it can also put you in the poor house.
I don't know if I'll ever lose interest in making my own gun ideas come to life, but it is now very possible to find exactly what I'm looking for, "off the shelf". The "semi-custom" gun market has boomed in recent years. Driven by ever more sophisticated hunters and shooters, and the long-range shooting craze, boutique rifle builders are popping up everywhere. Started by fellow "gun-nuts" who know the particulars of how to build insanely accurate rifles, these gun building companies now offer just about anything you could hope for in a custom rifle, now for a pretty competitive price. Chamber choices may be limited but you can be sure to find something suitable for your purposes, IF you don't have something extremely specific and slightly rare in mind. Rest assured, if you are bent on joining the 6.5 Creedmore club, you won't be disappointed. If, on the other hand, you'd like to be in the arguably better 260 Remington club, you might be, though most of these smaller builders can accommodate your choice of chamberings if not too obscure.
At last check there were about a dozen fairly well known providers in the category, and more seem to be gaining ground every year. Hopefully competition won't drive a trend to compromise on build quality to meet price points, like it did with the big brands over the last few decades.
My last custom build was built for the mountains. A stainless Remington 700 short action was sourced. A Jewel trigger set at 2.5 lbs replaced the factory trigger. The bolt assembly was fluted and skeletonized. The firing pin and shroud were replaced with light weight versions. My gunsmith installed a 1:8" twist barrel, cut and crowned to 23″ long, .030″ over standard diameter, which was then fluted and chambered for 260 Rem. An ultralight carbon fiber stock with aluminum pillars was bolted on. A one piece, light weight Nightforce 20MOA mount/base was affixed and a Leupold 4x12x44 VX-R installed, the latter picked for weight savings and optical performance. A custom drop compensating elevation dial, custom built for my load and bullet completed the project. Weight was saved everywhere, except the barrel, which while fluted and cut to 23", started off as a heavy barrel. The length and fluting make it lighter, and combined with every other weight saving choice it makes for a very light rifle, with a barrel that will resist point of impact shift as it heats up. A feature that matters most at the range when trying to sight in and work up loads. When hunting, a single, cold bore shot is what matters, and even if something goes wrong, it's highly unlikely that you'll shoot enough to heat a barrel. Pencil thin barrels are a joy to carry in the mountains but they're a bitch to get dialed in for consistent accuracy. I rarely go ultra thin on barrels.
There's always a new project in mind. I tend to not go with "trendy" options when it comes to guns. I like tried and true calibers and I like to be able to find ammo in far flung locales if necessary, airlines being the consistent "losers of luggage" that they are.
I'm a fan of 7mm Rem Mag, I've built and owned and sold a few, but another one is on my wish list right now. When I was a high school kid, Remington's 7mm Mag was still discussed as somewhat "trendy" and new, though it was already 20 years old at the time. Now it's well over 50 and as firmly entrenched as any chamber. You can find ammo for it anywhere, even at Walmart. It's awesome for long range shooting and can handle any North American, and probably even any African game species, with the right bullet choice. I know most African PHs require a 375 H&H as a minimum but the 7mmRM can dispatch anything realistically. I've seen the smaller 6.5 x 284 effectively take almost every big African animal except Cape Buffalo, and of course Elephant. I recently saw a well placed shot from 6.5×284 take an Eland which is about the size of an Alaskan/Yukon Moose. It dropped in its tracks. I know other 7mm options, like the new 280 Nosler, or the 7mm RUM can do "this or that" better, but I'll stick with the "old timer".
I think I'll seriously consider an "off-the shelf" boutique builder for my next 7mm. They seem to have what I require, and I'm curious about the process and product, which may be reason enough. Picking the right company may be the toughest decision. I'm certain it'll be quicker, and probably a more relaxed process than building my own. If the performance equals my projects, I'll be a happy and willing customer.
I never did get that 94 lever action, though I still keep my eye open for just the right one. I own a beautiful single shot stalking rifle in 30-30 and it is a great whitetail round, and when hunting thick Upper Peninsula cedar swamps where shots are close and nostalgia plays a role in my gun of choice, I'll usually grab that gun first. My 6 year old asks me to take her hunting on an almost daily basis now. I can't think of a better rifle than a model 94, to start hunting with, an opinion I've held since I was a beginner. She's a couple of years away but maybe she'll start off with a 94, like I intended to. Funny how one's path can be redirected, and then often comes back full circle. I'll probably be thinking about a custom 94 project now. Figured walnut, case colored receiver, cold rust bluing etc. Doug Turnbull, if you're reading this, give me a call!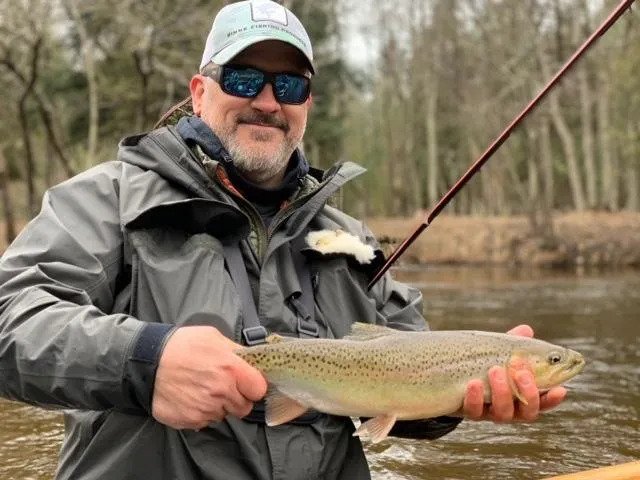 Brandon Vaughan has over 40 years of personal and professional experience in a broad array of hunting and fishing disciplines, from Alaska to Belize. Past professional experience includes working as a professional guide in Alaska and around the Great Lakes region. In addition to hunting and fishing throughout the lower 48, Canada and Central America, Brandon has been an Orvis Endorsed Fly-fishing guide, a fly-fishing and fly-tying instructor, a hunting guide and shooting instructor.