Gearing up for bird hunting! Orvis.com
After a pretty slow start to my archery season that included some unseasonably warm weather, I decided to take a few days in the third week of October and switch gears. Leaving my tree stand in late October isn't easy and it takes a pretty attractive plan "B" to convince me to do so.
After hearing years of reports from good friend and fellow contributor to this publication, Chris Zimmerman, about the phenomenal bird hunting in North Dakota, I figured that it was worth a respite from Michigan's bow season to go check it out. We'd be back before the rut after all and I had some new bird hunting gear to put through its paces, so it was settled. North Dakota ho!
Be careful what you wish for! Eschewing a warm Michigan October for a ND October can, and did mean drastically different weather. After a 19 hour drive which included thunderstorms and blizzards, we arrived in central ND to find temps in the teens and half a foot of snow. Instant winter if you will. Of the five days that we hunted, temps were in the single digits to start each morning. It did reach a balmy mid 20s most days and even broke into the 30s on our last day. Needless to say, I was more than a little concerned about the prospects.
For anyone than hasn't experienced North Dakota, I will gladly give my endorsement. Often overlooked as the red-headed step child to neighbors, South Dakota, Montana and Minnesota, it's a hunters dream. Vast open spaces, few people, tons of wildlife…..and a fair amount of anonymity as the aforementioned redhead, all make for a cornucopia of hunting opportunities. Gaining access to the primarily private land where we found ourselves, wasn't a problem, thanks in large part to the work that my hunting partners Chris Zimmerman and Rick Kaatz, had put in, in years past to meet and build relationships with a few generous local ranchers. Plenty of public access opportunities were readily available too. While we were just there for pheasants, sharptails and the occasional Hungarian partridge, we saw jillions of snow geese, lots of coyotes, ducks and ample numbers of whitetail deer, including some with huge racks. Pheasants were everywhere. We filled our bag limits every day, before lunch. Really impressive upland hunting and scenery! As an avid deer hunter, the wheels are turning rapidly, for future trip ideas.
As it turned out the cold was a minor distraction. Following bird dogs has a way of keeping you warm. I had a few new bits of gear to tryout and even though I was expecting wet conditions as opposed to snowy, the gear couldn't have performed better. Setting aside my tattered, threadbare and well loved waxed cotton chaps that I usually grab first for pushing through upland cover, I trialed two different upland pants for this trip, both from Orvis, always a trusted source for well thought-out bird hunting gear.
As the snow was heavier for the first two days of our hunt, I opted to wear Orvis' Toughshell Waterproof Upland pants, hoping to stay dry. Any concerns that I might have had were quickly laid to rest. I've never been drier in a pair of upland pants. Check that, I've never been AS dry! With multi-layered material that seems to be of the same type as Orvis' breathable waders, and well thought out zippered vents, and elastic ankle cuffs, there wasn't one instant that any moisture or thorn made it through the pants. Sweat was never a problem either, unlike most upland pants, the material, as advertised, was very breathable. The fit was good, roomy where my legs needed room and contoured in the right places to avoid any bulk, very comfortable for all day walking. Zippered pockets kept billfold and cellphone safe and secure at all times. I wore long johns most days but I tried the pants on without longs and they were very comfortable on bare legs too, with a nice soft lining.
As nice as they were, based on the aforementioned features, I was most impressed with how tough they proved to be. After 3 days of pushing cover that averaged 9 miles of walking per day (usually before noon), the pants still looked brand new….seriously, out of the box new. Never have I owned a pair of upland pants that racked up 20-30 miles without a mark. Truly impressive!
For the last two days of our trip I switched to another pair of pants, not because I wanted anything different, but because I wanted to test the second pair. Another fine Orvis product was put through its paces. Orvis' Upland Hunting Softshell Pants were up to bat. Softshell material has made its way into all manner of hunting and fishing, and everyday wear, a fact that in my opinion, happed about 20 years too late. The Soft shell upland pants proved to be another exceptional option. Feeling like a pair of comfy sweats, they too proved to be exceptionally dry, breathable and tough. While the majority of the pant was stretchy and extremely comfortable, the briar proof facing on the pant legs seemed to be bulletproof, without feeling stiff at all. In fact there was really no difference in feel on the area of the legs with the briar proof material. Track suit comfort is perhaps the best description. I would have to say that it's a dead tie as to my favorite of the two pants tested. Remarkably, the soft shell pants also came through many miles of thick cattail sloughs, fencerows and undergrowth, without a mark……..IN FORTY YEARS of bird hunting, I've never hunted a full day with new pants that still looked new at days end. Both Orvis pants did. I'm impressed by that!
Orvis offers a matching softshell jacket which I trust would be just as impressive, but I opted to try out their ProLT Pullover. A light weight, stretchy, water resistant half-zip shell, it was the perfect complement to the pants for layering over fleece or wool sweaters. A large zippered chest pocket on the left side was great for sunglasses or cell phone….as a right handed shooter. It comes in three color options, camo, blaze orange/tan, and olive. I used both the blaze/tan version and the olive version during my hunt. The latter has become one of my favorite everyday, around town, wind breakers. Both showed zero wear after hard use, both kept me dry and very comfortable.
I'm very particular in my choice of guns, which partially dictates my equally particular choice in upland vests, gun mounting being at issue. No one has ever produced my "perfect" bird vest, but I have a couple of pretty good ones. One is a 30 year old game bag vest, also from Orvis that I wore over the pullover. The smooth stretchy material and fit of the ProLT pullover was just right under my game bag, strap style bird vests. The stock of my 100 year old AH Fox 16 ga SxS slid smoothly into position. The zipper on the pullover never left a mark on the old walnut stock. Important features on bird hunting gear!
Is this gear review an Orvis "commercial"? Absolutely not by design. Is it a glowing endorsement of the gear I tested? Absolutely. In 40 years of bird hunting, I've used, and worn out lots of gear. Some has stood the test of time. Some has been quickly discarded. Some is worthy of praise and deserves to be used to within the last threads of its life. Those items, when retired generally avoid the trash bin and instead hang on a hook in a place of honor, as a bit of memorabilia, providing a mind's eye glimpse of hunts gone by. When I'm too old to hunt, I plan to sit in the midst of all this old gear and simply "remember". This gear mentioned above will be in attendance. I'm hopeful that I will have worn it out and etched many memories into it by then.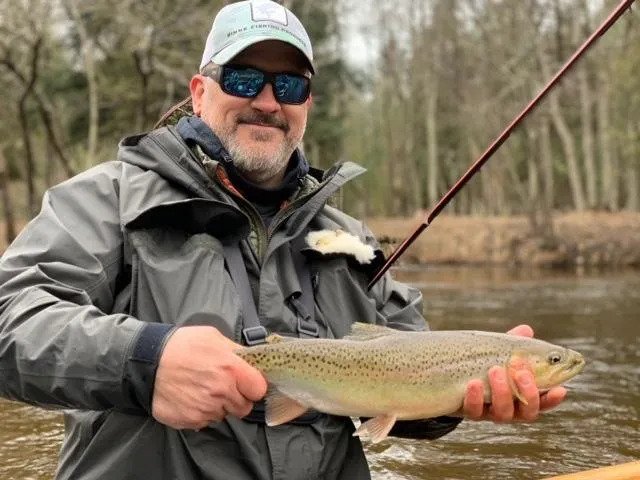 Brandon Vaughan has over 40 years of personal and professional experience in a broad array of hunting and fishing disciplines, from Alaska to Belize. Past professional experience includes working as a professional guide in Alaska and around the Great Lakes region. In addition to hunting and fishing throughout the lower 48, Canada and Central America, Brandon has been an Orvis Endorsed Fly-fishing guide, a fly-fishing and fly-tying instructor, a hunting guide and shooting instructor.