For me, summertime is the time to make hay. An age old constant yes, but in my world, making hay is just one of many tasks to tackle. Some tasks are necessary to prepare for upcoming pursuits. Planting or maintaining small food plots of, among other things, alfalfa (actual hay), beets and chicory for the upcoming deer season, checking and trimming tree stand sites, scouting and placing trail cams, securing permission for private land access, filling the freezer with walleye, perch and salmon from one of the Great Lakes (i.e. meat fishing)….and of course all the many chores and work associated with owning a home, being a dad and having a job.
In between the "must do" items, there are numerous "want to do" activities. In the summer, these tend to include a more laid back, relaxed goal, like gliding down a northern trout stream in the bow of a drift-boat, sneaking dry flies, into eddies, foam lines and feeding lies, or perhaps tossing streamers tight to log jams and into deep pools. Brown trout, rainbows or brookies,… or maybe a little bass fishing. Large mouths, or better yet, smallmouths, on a fly, or with typical bass gear. Catch and release fishing for fun and of course conservation. Whatever it is, it probably includes cold beverages, maybe a cigar, good friends, family, cool water, fresh air and a fair dose of decompression.
Just a few days ago, found me attempting just that…I was trying to decompress after a long week of work, kid activities, end of school year schedule changes and challenges…and a bit of good old fashioned stress.
Small mouth bass were the target and sitting in the bow of a smallish aluminum boat steering the trolling motor with my foot, I was giddy and lost in the beauty of the uncommonly deep, clear, rocky lake that my good friend, Dave and I were fishing. Having fished this particular lake together for over 20 years, we know it well and were subsequently, and as is typical on this lake, smashing the bass. With a few good large mouths thrown in, most of our fish were chunky belligerent smallmouths.
Having suffered through about a week of brutally hot, early June temps, and having wrapped up their spawning activity, most fish were cruising along drop offs and around deep weed banks enjoying the cooler water 10 feet or more below the surface. We even found packs of shark-like smallies herding bait balls in deep open water. For fun, I switched between lures and techniques. Starting with a jig-n-pig on the deep side of thick beds of coon-tail along a drop off, then using a Rat-l-trap and pitching long casts out over the deep bait ball assassins, slow cranking to mimick a wounded minnow straying from formation. I pitched deep diving crawfish colored crankbaits in a deep rocky cove, bouncing the bill into the rocks and sand. I didn't seem to matter. As long as we stayed in the deeper water, and used a tiny amount of logic in our presentation, we hooked fish right and left. It was an epic, but not un-typical day for this lake. We were having a blast!
After a frenzied couple of hours and a wee bit of fatigue from rapid fire casting, and hook-setting with baitcasting gear, I sat down to take a breather, enjoy the scenery, eat a sandwich and drink a cold beverage, the latter two generously packed by Dave's wife Carol. Protest as I might, Carol never lets us embark without a well appointed cooler, usually with far more food and drink than we can handle, though we always try our best.
Post reverie, I pondered which rod/lure to grab next. As we were working our way to a new bay that was about 15 deep with a rocky bottom, and clumps of deep submerged weeds, and a sharp drop-off near shore, I wanted to try another tactic, just for the hell of it. Opting to lighten up a bit, I grabbed a 6 ft spinning rod and rigged a hook 10" above a sinker for a "drop-shot" presentation. I dorsal hooked a 3" plastic minnow and pitched a cast to fall down the edge of the closest "weed clump". As soon as the sinker touched bottom, I tightened the line slightly, shook the minnow with a subtle twitch and immediately felt a not so subtle assault below. With a quick hook set my rod doubled over and a pretty good fight ensued. Assuming another smallmouth Dave and I were both surprised to see the flashing white and gold flanks of a slab-sided 15" crappie emerge from the depths.
It's funny how after a day of phenomenal smallmouth fishing, with many fish in the 3-4 lb range, and a few over 5, how a 2 pound crappie can cause two grown men, each with over 40 years of experience fishing around the world, to "lose their shit".
Bug-eyed, we both scrambled to get our lures back in the water, to what we expected to be a school of these canoe paddle sized "paper-mouths", as the old timers call them. No better Chinese fire drill has ever been performed and our efforts were rewarded. With virtually every cast a crappie would inhale the bait and battle to the surface. Like little kids we hooked and landed fish after fish. It was one of those one in a hundred experiences that you'll talk about for years to come. We'd lucked into this scenario once before in another part of this lake, ten years prior, with perhaps 30-40 outings in the interim, without finding this crappie bonanza, until now. Crappies tend to be ambush predators that like to sneak up on their prey from below, and they usually tend to school suspended. Logic would have it that the right presentation would be made higher up the water column than the 10" drop shot presentation was providing. If I had been intentionally targeting Crappies, I would've rigged another way and probably presented the lure 3-4 feet from the bottom…at least. Every fish we caught was on this drop shot rig with the soft plastic 10" from the bottom. Just about every cast was allowed to settle to the bottom and then shaken as if we were bass fishing. More than once I was tempted to re-rig with a proper, logical crappie rig, but that's very hard to do when you're catching a fish on every cast with the "illogical" rig. I'll certainly remember and try this tactic again for crappies…though I'll probably be tempted to make the dropper 20-30" long next time….or maybe I'll luck into them again while bass fishing….or maybe I'll just excitedly talk about it for another 10 years until it happens again.
Most of our crappies were released back for another day, but I must admit that we elected to keep just a few for the fryer….because like walleye, perch and lake salmon, the idea of golden brown fillets provides for at least half the excitement when it comes to catching crappie.
The chance for discovery, and being surprised by what you'll pull from the depths is a huge part of what got me "hooked" on fishing at an early age. I think that part will never get old, even long after I have. Laid back summertime fun fishing is often just as rewarding and interesting as any technical, specialized fishing experience. You never know what you'll luck into. Take a break from the "to do" list. Take a friend, your spouse or your kids…and a full cooler, and float around any body of water you can find, be it a remote "hot-spot" or a farm pond. Relax, it's summertime…..and the livin is easy!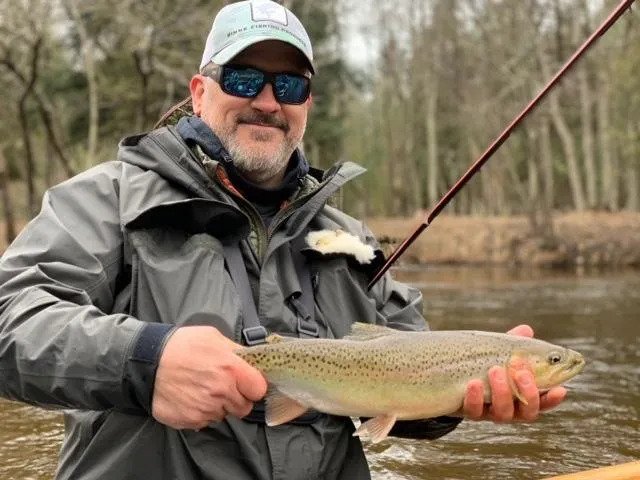 Brandon Vaughan has over 40 years of personal and professional experience in a broad array of hunting and fishing disciplines, from Alaska to Belize. Past professional experience includes working as a professional guide in Alaska and around the Great Lakes region. In addition to hunting and fishing throughout the lower 48, Canada and Central America, Brandon has been an Orvis Endorsed Fly-fishing guide, a fly-fishing and fly-tying instructor, a hunting guide and shooting instructor.