Abridged and excerpted from Brandon Vaughan's forthcoming book.
The first three bonefish that I ever caught on a fly were violently cut in half in bloody, blindingly fast attacks by large hungry barracudas. I was wading a white sandy flat in 20" of transparent water, and each attack was within a rods length of my bare legs as I was preparing to land the bonefish, after fighting long powerful runs, for which bones are so noted. Each attack was so fast and brutal that it's impossible to describe. The barracudas would hover 40 or 50 yards away, zeroed in on the struggling bonefish and just when the fight was near its end, they would accelerate to warp speed, cut the bonefish in half and be 40 or 50 yards past me, all in a fraction of a second. Only a cloud of blood in the water, and a neatly severed bonefish head, still hooked to my fly, were left. And so began my Bonefishing career.
Good friend, Dave Plautz and I were wading in calf deep turquoise water in the middle of a large Caribbean flat that stretched for miles. Schools of bonefish were visible in every direction. Huge barracudas and a variety of black tipped, white tipped and grey reef sharks shadowed each school, and our every move. We were in a true wilderness setting. This was not the typical saltwater fly-fishing resort environment that every hardcore fly-fisherman dreams of and plans for. We were in a remote corner of Belize and despite the fact that we were really roughing it and were without any modern electronics, or safety equipment in a homemade "flats" boat, that we had spent hours in the previous night, adrift in the middle of the Caribbean with only a tiller steer 40 HP Chinese outboard that died and wouldn't re-start…. in the dark…..we were in heaven. The motor eventually started after we spent a couple of hours under the most star studded sky, and above the sea floor, covered in little glow in the dark critters to rival the sky, all while riding gentle Caribbean currents on a beautiful balmy night. You couldn't ask for a better scenario if you had to be aimlessly adrift in the ocean. Never mind that these were truly shark infested waters and that our next stop would've probably been Africa…many months…or years later, had the motor not recovered it's composure.
That first trip to Belize, some 20 years ago, hooked me for life. At the time I was already a life-long, hard core fly-fisherman with many years fishing around the Great Lakes, Wyoming, Colorado, Montana and Alaska. Belize was a new untried challenge, an exotic fantasy land that had been on my wish list since I was a high school kid. Needless to say, when a friend, that I had met while guiding in Alaska, called and said that he knew of a new "lodge" in the Turneff area of Belize and that he could get a great deal on an all-inclusive week's stay, I jumped at the chance. All we had to do was get ourselves to Belize City on the mainland. Tickets from Detroit, through Miami and on to Belize City were booked faster than you can say "fish on".
That first trip was so full of new experiences, adventure, a fair amount of danger and close calls that it's etched in my mind forever. Thankfully, I lived to tell the tale and can recall it in fine detail. The trip to the "lodge" is a whole story unto itself. Suffice it to say, the "lodge" turned out to be a shack on stilts on a desert island with 50 miles of ocean between us and the safety of civilization. Aside from bottled water that we, through sheer luck, decided to bring from the mainland, the only water was rainwater caught in one large plastic tank, open to the elements. Showers were brackish, and infrequent but we swam every day and got used to being slightly dirty. Luckily we also had the forethought to bring a good supply of Belikin beer, one of the best "leftovers" from British colonial rule in Belize, formally British Honduras. There might not be any better drink than a bottle of Belikin enjoyed on a tropical bonefish flat. (Though I've made the same comment about Avery Brewery's Reverend Ale, drank on the banks of the Big Thompson river just outside of Estes Park Colorado, and about Bell's Two Hearted Ale on the banks of the Two Hearted River in Michigan's upper peninsula, so maybe it's just a beer/fly-fishing…. thing).
Having run a large fly shop for a number of years and having outfitted hundreds of Bone-fisherman who went before me, prior to my first Belize trip, I was fortunate to have a pretty good idea of what to bring and what to expect,. I did, however, learn a lot of valuable lessons on that first trip, not the least of which may have been to do your research. Our "lodge" was really an attempt by a native Belikin (what people from Belize call themselves), to get in on the then burgeoning bone-fishing scene. We were far distant from the more famous Turneff area lodges. We were in a seemingly lawless, trackless, true tropical wilderness, repleate with sharks, crocodiles, drug-runners and what I'm sure were pirates.
"Lodge" owner Fabian was a great guide and he, with the help of his wife, brother and a niece, provided us with the best experience that they could produce, with clean beds, lots of fresh seafood, tropical fruit, eggs and chicken (the little island, which I could throw a rock across at any point, was full of chickens), but this was not a lodge. Gilligan's island looked posh in comparison, but it was white sand, blue water and palm trees and once we figured out how to communicate, (they spoke Creole, a mix of Spanish, French, hardly intelligible English and a hodgepodge of African languages), we got on swimmingly. More gracious hosts couldn't be found anywhere.
They called it Golden Bonefish Lodge, so named due to the somewhat frequent appearance, in the midst of large, mirror colored schools of bonefish, of one or two bright orange, goldfish-colored bonefish. We saw a half dozen of these odd colored bones in our week on the flats. I've told many other fly-fisherman of this anomaly over the years and I'm certain that not one of them believed me. Just recently a network TV fly-fishing show documented the oddity, so I can now mention it again without fearing skepticism. In subsequent trips to the Northern part of Turneff, and the Ambergris region of Belize, I've never seen this strange coloration. I assume it's a form of albinism.
We caught hundreds of bonefish, a few permit and tarpon, a myriad of reef fish and many delicious snappers, and rock lobsters, the latter caught by hand, snorkeling the gin clear water around the reefs during mid-day breaks from casting.
In addition to flats clothing suitable to keep the sun a bay, lots of sunscreen, polarized glasses, flats booties (to guard against sharp coral and sting rays) and toiletries, my gear included a 10' fast action, 4 pc 7 weight G Loomis rod, (also my favorite Steelhead rod), a 4 pc 12 weight Orvis Saltwater rod, and a 4 pc 7' spinning rod. The 7 weight was fast enough to handle an 8 weight line in a pinch. Most bonefish and permit fishing was with a WF 7 intermediate tropical line but I carried a spare spool with an 8WF Intermediate line for the really windy days or when I wanted to punch large crab patterns out to cruising permit. My large Tibor tarpon reel included a spare spool too. The primary rig a WF12 Intermediate sink tarpon taper, for the flats and the spare spool loaded with T-400 Teeny sink tip for fishing the deep water between Mangrove thickets. Most Tarpon were found in deeper water in the mangrove "backcountry" as opposed to the flats, unlike the tarpon fishing found North of the Ambergris area, where the tarpon also tend to be bigger.
Permit can be picky, preferring crab and realistic shrimp patterns, Bonefish seem to be far less picky and bite about anything. Those used to selective trout will be pleasantly surprised at how readily bonefish will take a fly. While not picky, they can be spooked if your false cast is over their heads, or if your cast slaps the fly down hard on top of their heads. When casting, leading the school a good distance and letting your fly sink before the fish converge on the spot is good practice. Don't be afraid to get ahead of a moving school by 20 yards. Bonefish move fast and have great eyesight and will be on top of your fly before you know it. Once it a while they'll veer off in a new direction before they get to your cast, but as long as you don't spook them you can pick up and re-place your cast. My rule of thumb on fly color is to somewhat match the bottom or water color. White, pink, tan, brown, blue, yellow and olive can all produce. Crazy Charlie style flies can be tied in a hundred different color and material combinations and may be the only pattern you really need. Small shrimp, crab and minnow patterns and epoxy flies a great too. Fairly large crab patterns for Permit are the ticket. Traditional tarpon flies in a variety of colors should be packed too. Stu Apte tarpon flies, Deceivers, Seaducers and Clauser style or rabbit strip flies are great. Make sure you have blue/white, red/yellow, pink, and brown/grizzly color combos. Bonefish patterns in size 8 or 6 and permit flies up to size 4 are the ticket, 1/0 and 2/0 SS tarpon flies should be employed. Make sure all your hooks are razor sharp! Tie (or buy) your bonefish flies the traditional way with bead chain or lead eyes for water over 18" deep but tie a selection weightless for skinny water. On a falling tide, bones will rush up into water as shallow as 6" deep to gorge on tidbits being flushed out of the mangroves. With tails and dorsal fins sticking up like so many little chrome-colored sails, this mini regatta is one of the most fun scenarios to fish, but hammering a traditional fly with bead chain eyes can make enough of a commotion that it's possible to blow an entire school right out. It's a neat sight to see when it happens, but it'll end your attempts to hook those fish. A dozen bonefish, when spooked in shallow water can vacate an area so fast that it looks like a bomb was dropped in their midst. Spray erupts into a mist and a literal hole in the water momentarily forms as the school explodes, and you can actually see the hole fill back in with water in the aftermath. Game over but maybe worth the spectacle.
January, February, March and April are ideal months to go, and is when my thoughts are constantly turning to white sand, blue water and palm trees. May, and especially June may be the best time if you're targeting tarpon but it can also be brutally hot, AND buggy. The worst mosquitos I've ever seen (including the close second, Alaska tundra in July), were in Belize in June. I was staying at a facility without mosquito nets on the beds and it was unpleasant though, thankfully I had prepared with a prescription of anti-malaria medication and only suffered some annoyance. I've also been to Belize in January, February and March without ever seeing a bug.
Do your research, check your tackle, tie some flies and book a flight. There's nothing better in February than texting pics of yourself on a white sand beach, to your friends freezing their butts off, back "up-North". And there's no better way to shake off cabin fever than to the sound of a screaming fly reel, while a bonefish rips off 300 ft' of line in a flash. Most destinations in Belize are pretty upscale and nice enough to satisfy "non-adventurers". Sight-seeing, diving, photography, fine-dining and world class fishing are the norm. Being lost at sea is not!
Contact us if you'd like to book a Belize trip. brandon@backcountrylife.net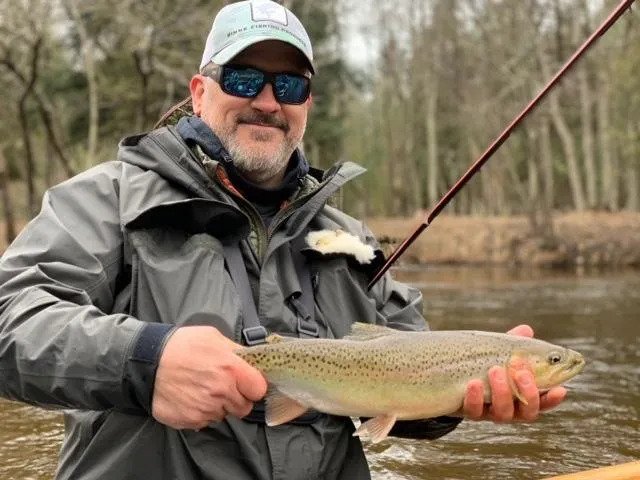 Brandon Vaughan has over 40 years of personal and professional experience in a broad array of hunting and fishing disciplines, from Alaska to Belize. Past professional experience includes working as a professional guide in Alaska and around the Great Lakes region. In addition to hunting and fishing throughout the lower 48, Canada and Central America, Brandon has been an Orvis Endorsed Fly-fishing guide, a fly-fishing and fly-tying instructor, a hunting guide and shooting instructor.