I recently took delivery of a new rifle that I've been very interested in for quite some time. Being a fan of 6.5mm chamberings, and light weight rifles, the Howa "Mini action" bolt gun in 6.5 Grendel has been on my wish list. The Howa Mini in 6.5 Grendel would fall into the affordable production rifle category priced roughly in the same range as Rem 700 SPS, mid range Savage, Winchester or Browning rifles.
I was able to find this gun on Gunbroker for less than $500.00, NIB. I was pleasantly surprised when I opened the box and finally put my hands on my new rifle. The glass reinforced plastic stock was much better quality than expected with a nice ergonomic feel, aluminum pillars and a great recoil pad, the latter similar in feel to a Pachmyer decelerator, but without the harsh rubber smell. The stock was fairly stiff and offered plenty of "free float" space for the barrel, with at least an 1/8″ of space all the way around the light weight, 20″ barrel that I chose for this gun. The gun is available with 20 or 22″ inch barrels, in light weight, standard or heavy contours. I wanted a very light rifle, so opted for the slim tube.
The Howa action is very similiar to the Rem 700 action, and lower priced Weatherbys (Howa makes Weatherbys). The mini action is even smaller that a standard Rem 700 short action. The main difference and improvement is the extractor. While the Rem 700 uses only a machined in lip on the interior of the bolt face, along with a spring loaded extractor pin, the Howa uses the same spring loaded pin in conjunction with a spring loaded claw extractor. I would call this arrangement "semi-controlled feed", combining the standard push feed of Remington with a hint of controlled feed, or at least a hint of the "claw" ala Mauser/Pre 64 Winchester.
Either way it works like a charm in the Howa platform. The machining and metal finish, along with the smooth operation is perhaps the most impressive aspect of the Howa. It's the best I've seen in this price range…period.I mounted a Leupold MarkAR 3x9x40 scope in a really great, light weight Talley Aluminum rings/base combo. These are fantastic one piece mounts purpose built for the Howa Mini action, with nothing intruding over the ejection port, unlike most mounts made for standard short actions.
The Medium height, 1″ mounts, along with the rugged and light weight Leupold make for a very nice light mountain rifle set-up. I own many Leupold scopes, from their flagship Long range tactical scopes to these mark AR scopes. If you're looking for a compact, light scope, the AR series is hard to beat. They're very affordable, durable, made in the USA and like all Leupold scopes perform flawlessly. the AR series offer 1/10 Mil adjustment and they come with nice, tactile adjustment knobs. Most are pre-configured to dial to range with 55 grain 5.56 AR ammo, but the windage and elevation caps are easily swapped out for a custom dial from Leupold.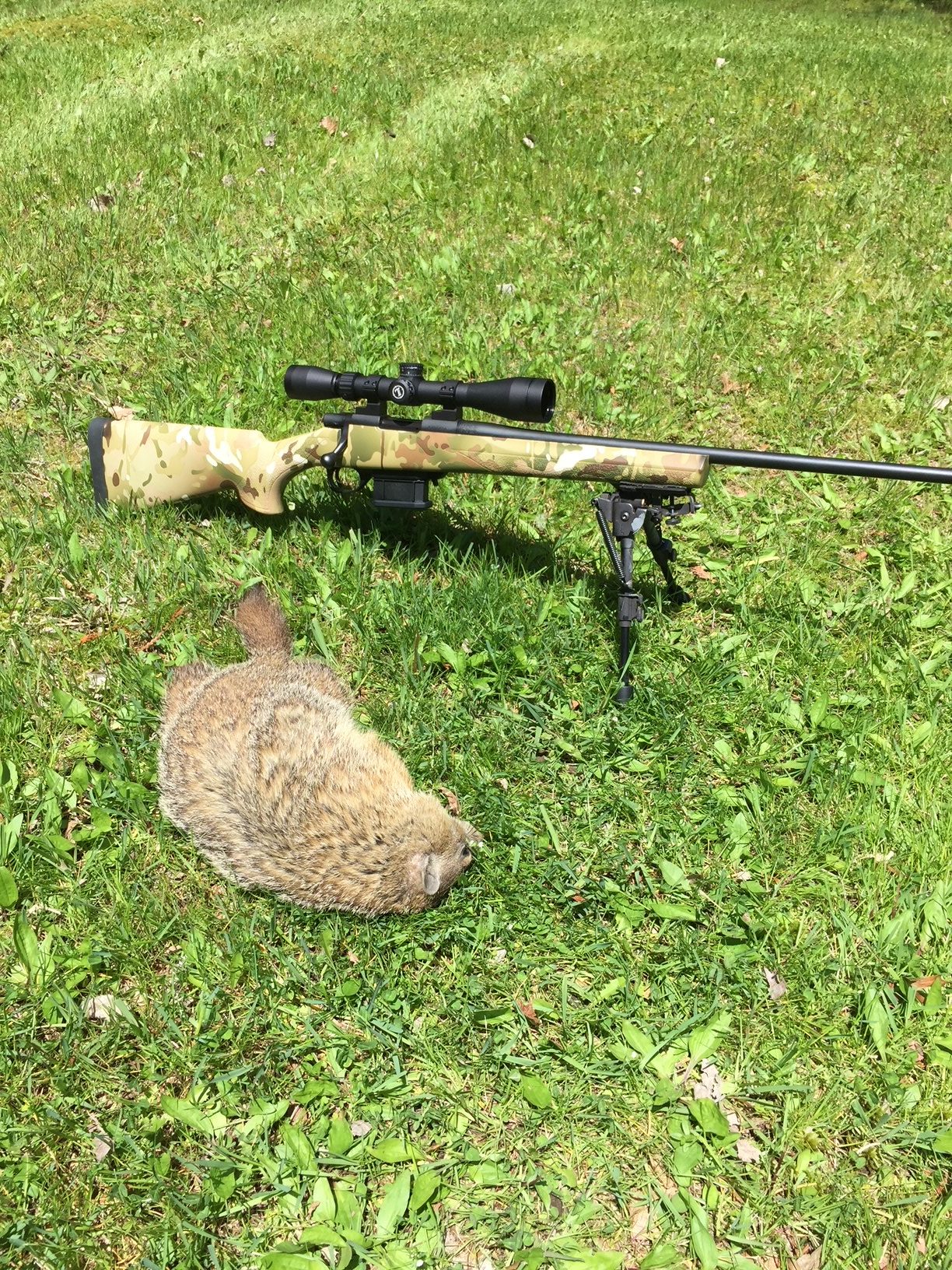 Once I settled on a bullet and muzzle velocity, I quickly ordered a CDS dial with the bullet specs, the muzzle velocity my load produces, the expected elevation and temperature where I'll be hunting, with pre-set dial to range hash marks out to 800 yds. I can't wait to install it and try it out on long range steel targets.At the range this diminutive rifle performed like a champ. Once dialed in I was quickly producing sub MOA groups at 100 yds, the best being just under a half inch for 3 shots, making one raged clover leaf hole. My load, a 123 grain Hornady SST moving at 2,750 fps is actually a very capable round for deer sized, or even elk sized game.
Out of a 20″ bolt gun this load is still close to, or at super-sonic at 1,000 yds. Plenty of punch for whitetails, pronghorns, goats or bighorn sheep at 400 yds in this configuration if you need to stretch a shot. Higher power glass than I selected would make it deadly out to 1,000 yds. All of this is amazing to me since this little gun feels as light as a BB gun and kicks just slightly more.
What a great little mountain rifle at an incredible price!!Is the Howa mini perfect? At the price I'd almost be inclined to say yes, BUT being a perfectionist when it comes to rifles, there are changes that I'd make, probably WILL make at some point. The only real complaint I have is with the magazine release latch just ahead of the 10 round polymer magazine.
The latch sticks out about 1/2″ to allow for easy release of the magazine. Unfortunately the spring that operates it, and allows it to engage a notch in the magazine, is too weak, and the notch on the magazine is not detented enough to allow good purchase. This results in the magazine dropping out every time even slight contact is made.
The latch sits at the perfect balance point of the rifle so I was constantly brushing a finger against the latch causing the magazine to fall on the ground….not good! Since the latch lever is a small, easily replaceable part made of nylon, I decided to modify it. With a Dremel tool, I cut it off almost flush with the magazine well. Problem solved.
It doesn't have that cool tactical look of a big release lever anymore but it doesn't drop magazines on the ground anymore either. At some point I may go with an aftermarket trigger and stock. The 2 stage factory trigger is adjustable, and I did adjust it down to about 3.5 lbs, and it works pretty well, but I might prefer a better single stage trigger.
There are tactical chassis stock systems available for the Mini action but none suit my taste. I would love a carbon fiber stock with a bit more of a vertical grip, and perhaps a shorter and slimmer fore end than the Howa stock, but these mods will put the total cost into the custom range, price-wise. I think trigger and stock upgrades will improve accuracy (maybe), and will improve the aesthetic, at least for me.
As is, the Howa Mini in 6.5 Grendel is a great rifle at a great price, and in a chambering that will handle everything from coyotes to caribou, and probably elk with judicious shot placement, bullet choice and restraint. I look forward to lots of fun carrying and shooting this great little gun.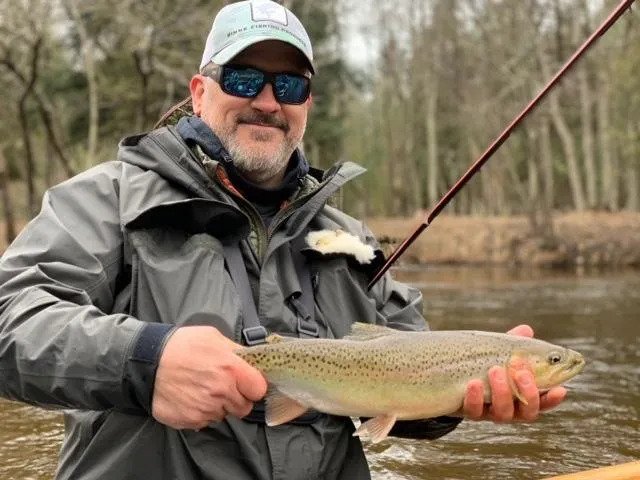 Brandon Vaughan has over 40 years of personal and professional experience in a broad array of hunting and fishing disciplines, from Alaska to Belize. Past professional experience includes working as a professional guide in Alaska and around the Great Lakes region. In addition to hunting and fishing throughout the lower 48, Canada and Central America, Brandon has been an Orvis Endorsed Fly-fishing guide, a fly-fishing and fly-tying instructor, a hunting guide and shooting instructor.