Long ago, I figured out that shooting from a rest was a better option than shooting off-hand, and for years I've carried some type of shooting stick when venturing afield to hunt with a rifle or pistol. They've run the gamut from sticks cut while in the woods to jerry rigged dowels or bamboo poles to nicely crafted wooded bi-pods like what is typically used for hunting in Africa. For the last 5-6 years I've used the Primos Trigger Stick and can attest to it's utility.
Anyone familiar with hunting in Africa will know that it's almost unheard of to ever take a shot from any position other than resting on "the sticks". At crunch time, your PH will be hissing at you in that abbreviated Afrikans accent to "get on the sticks man, quickly, get on the sticks", as you prepare to your settle your crosshairs on an Eland, Kudu or gnarly old Dugga boy. Shooting from shooting sticks provides a very stable platform and is orders of magnitude better than shooting off-hand.
Primos, a company with no shortage of quality, innovative hunting products, has one-upped themselves with the new "Trigger Stick tripod, Generation 3". One upped because the new Gen 3 tripod is a decided improvement over their already impressive Gen 2 Trigger stick tripod.
For those unfamiliar, the Primos trigger stick, available in mono-pod, bi-pod and Tri-pod, allows for one handed operation and height adjustment by simply squeezing a trigger that lock and un-locks the height adjustable legs. At a max height of 66" the Tri-pod model makes for a rock solid platform for shooting while standing, for even the tallest of hunters, and can adjust down to as low as 22", with its legs splayed, which makes it great for seated shooting as well. That kind of range just isn't possible with improvised sticks.
The two big improvements over the Gen 2 stick are the quick detach optics mount that is included, and the available scabbard. The scabbard is triangular in cross section and has a plethora of Molle straps, which can be used to attach things to the scabbard, or to attach the scabbard to things like backpacks. The collapsed Trigger Stick fits neatly within the scabbard.
The ancillary optics mounting plate is great for cameras, spotting scopes or Binos and can be left attached to those devices. By simply pressing a spring loaded button you can instantly change between the "Y" shaped shooting cradle, and whichever optic you've affixed the optics mounting plate to. Shooters as well as cameramen will love the speed and simplicity of the Gen 3 trigger stick. I've even opted to mount the "optics" attachment plate to the bottom of a quick adjustment photography mount that allows for quick angle adjustment with the squeeze of its handle. My cameras, scopes and Binos have additional QD plates for this system so now with a camera or other optic, I can adjust the tri-pod height with one trigger and the angle and orientation of the lens by squeezing another similar trigger, and change between many different platforms, on the fly, quick as lightning.
No light-weight, the Gen 3 Trigger Stick can handle the load of anything that I've thrown at it including some pretty beefy spotting scopes and camera rigs. The literature that's included says not use the Trigger Sticks as a "trekking" pole, but I do often and I think everyone else does too. They're durable and have stood up to all the punishment I've dished out. With my older Gen 2 Tripod, I was inspired by my 6 year old daughter, who loves to commandeer it to build forts in the living room, using blankets draped over the tri-pod to make a very nice teepee. I too have found the trigger sticks to be very useful, if caught out in the rain, or for an overnight camp site when traveling light, used with a tarp or two to keep the frost or dew off a sleeping bag and ground cloth. Talking to Jake Edson of Vista Outdoors, the parent company of Primos, I suggested that perhaps an ultra-light, pack-able but roomy, bivouac shelter, purpose built for the Trigger-Stick, could be added to the Primos line-up. I could conceive of a nice two or three man shelter that used the Trigger Stick tri-pod as its support frame, with the corners staked out, that I'd like to tuck into my backcountry hunting pack. Jake seemed to like the idea and mentioned that he'd share it with the products group. I'm keeping my fingers crossed that it sees the light of day! If it's camo colored and packs to about the size of half a loaf of bread, and attaches to my pack, or Trigger Stick scabbard via Molle straps, all the better! (What can I say, my dream job has always been to invent hunting and fishing gear….I've got a million of em).
The Primos Gen 3 Trigger Stick is a very useful, handy and well-built piece of equipment that is worth its weight when it comes to ensuring a rock solid platform for shooting, filming or glassing. I carry mine whenever I carry a gun, scope or camera afield. Find it at primos.com or major sporting goods outlets like BassPro.com and Cabelas.com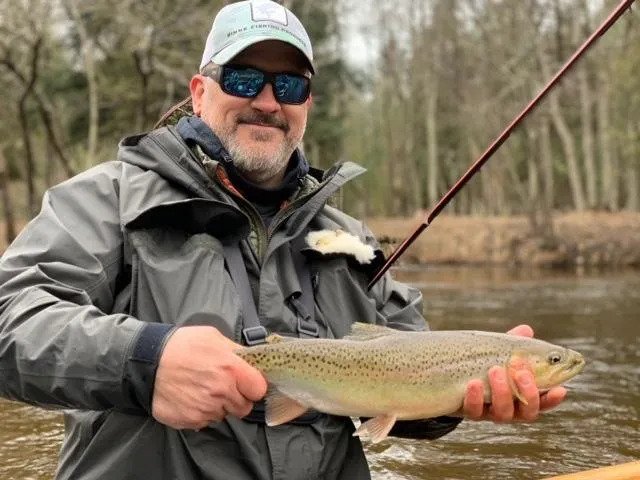 Brandon Vaughan has over 40 years of personal and professional experience in a broad array of hunting and fishing disciplines, from Alaska to Belize. Past professional experience includes working as a professional guide in Alaska and around the Great Lakes region. In addition to hunting and fishing throughout the lower 48, Canada and Central America, Brandon has been an Orvis Endorsed Fly-fishing guide, a fly-fishing and fly-tying instructor, a hunting guide and shooting instructor.