This winter, after the final day of deer season, I did what I do every year, for the last 40 years. I take a Saturday morning to organize and take stock of my hunting gear before storing it away for the year. Things get fixed, sewn, sharpened and cleaned as needed. Batteries are removed from everything that uses them, so that nothing is destroyed by corrosion over the winter. Arrows get repaired and stored, bowstrings get waxed and bows get maintained before everything is put in its place for the summer months to come.
This practice of taking stock usually evokes a fair amount of reflection. My hunting gear is a collection of serious tools used for my pursuits but all of it is also cherished possessions with sentimental value for the many memories that each piece recalls. No piece of gear evokes more fond memories from my lifetime's passion for bow hunting, than traditional bows and arrows. Longbows, recurves, wooden arrows, feather fletched cedar shafts with old fashioned, glue-on broad heads. The look, feel and smell of traditional gear is heady stuff indeed.
This winter after my year end chores were done, I had the bug to look into getting a new longbow and thumbing through a back issue of "Traditional Bowhunter" magazine, I stumbled upon an ad for Java Man Archery. The longbow pictured in the ad was beautiful so I looked a bit closer and was surprised to see that the company was just a 20 minute drive from my home. Seeming like fate, I quickly put a call in. (Javamanarchery.com) Gregg Coffey, owner of Java Man, answered the phone and very graciously answered a laundry list of questions that I had compiled, and it was decided that I would take a trip over to his shop in Holly, MI., to check out the operation and sample his work. A few days later, I did just that, and what a treat it was.
Upon my arrival, Gregg met me at the door and led me into his well organized and tidy work shop. Stacks of bow forms and exotic woods lined the walls. Workbenches and tools were efficiently positioned. Carefully detailed "build" journals with notes on every design and construction aspect, filled a shelf. It was obvious that this artisan had a background in engineering as well as fine craftsmanship.
Gregg showed me his entire line of bows, we shot most of them at targets lining the back wall of the shop, comparing all the nuances of each. The amount of time and interest that Gregg took in helping me figure out which model I wanted, was surprising and much appreciated. It wasn't long before I felt like I was hanging out with an old friend. That's the type of guy that Gregg is. His passion for what he does and his interest in the sport shows through instantly. We talked hunting..a lot. We both whipped out our phones and showed off hunting pictures and compared notes on everything from shot placement to quality deer management. Gregg even let me watch over his shoulder as he worked, laminating, sanding and shaping bows. It was very educational and incredibly interesting.
Gregg is the consummate craftsman. With a Bachelors in Mechanical Engineering from Western Michigan University in 1983 AND a Masters of Science in Administration from Central Michigan 1994, Gregg went on to a 32 year career in Product Engineering and Program Management in the tier one automotive world working on everything from Mechanical Speedometers, Odometers and Instrument Clusters to Fuel Rails (Dana Corp, Millennium Industries, Cooper Standard).
After retiring from his long career in the car industry, Gregg decided to follow his true passion for archery and hunting by going into the bow business full time. For many years he had been building bows in his spare time, but as a still young man, in retirement, he decided to go back to work full time. "I made my first self-bow in 1994, and started selling them almost immediately. From 1994 till 2003, it was mostly self-bows and all wood laminated bows. In 2003 I started working with glass laminated bows, and stopped making "all wood" bows by 2005. In April of 2016, bow making went from my 2nd "full time" job, to my only job. "I'm still loving it !!". "My friend Jim Clem thought of the name Java Man around 1996-1997. It seems to fit pretty well, with my last name being Coffey."
Churning out almost 200 bows a year, the back log for a Java Man bow can be up to 6-7 months, which isn't excessive in the custom bow business, but as they say, he who hesitates is lost. The wait is well worth it. With 10 models to choose from, there is something for everyone. Each model is available in several lengths. Longbows are available from 52″ to 70″ and recurve models can be had from 52″ to 62″. Various draw weights can be accommodated too. All models can be made as one piece, or as two piece, take-down versions.
With a stunning array of gorgeous woods to choose from, Java Man bows are usually custom made to some extent. Gregg makes stock bows but always accommodates customer requests for something special.
"I like to treat all my customers more like friends than strangers, and I have made quite a few friends along the way. Each bow is crafted as an individual, made as close as possible to the customers exact preferences, which includes their help in selecting the exact pieces of wood to be used where possible. Smart phones and texting sure make that part much easier!"
Gregg's favorite model is the Elkheart, a 52″-58″ reflex deflex hybrid longbow. It's well known for its smooth draw and very good arrow speed. I can attest, I shot many of Gregg's bows and while they are all beautiful to look at and sweet shooting, the Elkheart stood out and completely fit the bill for what I was looking for in my next traditional bow. I went for bocote and zebra wood in a short-ish, 40-45 lb bow. Light as a feather, it'll be perfect for still hunting, stand hunting or spot and stalk. I can't wait to just walk the woods and "stump shoot" with it… "roving" as the old timers referred to it.
When asked about his philosophy on bow building, Gregg's typically humble reply was, "There's way more wisdom on shooting and hunting out there, than I can muster." Truth be told, there's a lifetime of wisdom that goes into the designs and beautiful craftsmanship of every Java Man bow.
If, you're like me, and love to shoot and hunt with a beautiful traditional bow, contact Gregg Coffey at Java Man archery. You'll be glad you did! javamanarchery.com In Holly, Michigan. Ph. 810-599-7878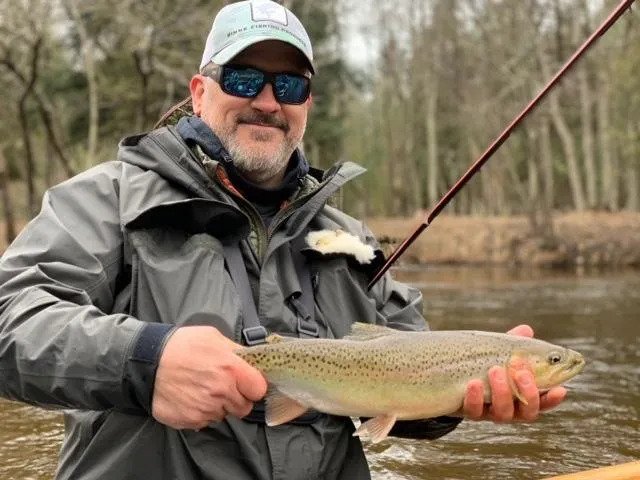 Brandon Vaughan has over 40 years of personal and professional experience in a broad array of hunting and fishing disciplines, from Alaska to Belize. Past professional experience includes working as a professional guide in Alaska and around the Great Lakes region. In addition to hunting and fishing throughout the lower 48, Canada and Central America, Brandon has been an Orvis Endorsed Fly-fishing guide, a fly-fishing and fly-tying instructor, a hunting guide and shooting instructor.