When I last wrote about rifles, I was contemplating buying a finished custom rifle from one of the small boutique builders that seem to be popping up everywhere. I shopped around. I considered the advantages, limitations and pricing of many, and while there were a couple of standouts, Barrett, Gunwerks and Kenny Jarrett being the three that I considered the most, I ultimately decided to roll my own….again.
I know exactly what I want, down to the fine details so with a plan in hand, I got to work pulling the components together. First I sourced a Remington 700 action. Actually it was a complete stainless steel Remington 700 SPS in 7mm rem mag as a donor. There are a number of great action options to start a custom build, but I tend to go with Remington 700s. It's the choice of many custom builders, or it's the basis for many custom builders that make their own actions. Most are modified versions of the 700, at least the precision, long range platforms. Mausers and Model 70s and the custom shop variants are usually the choice for high grade, engraved customs with exhibition wood and if I were going that route, I'd opt for a Pre 64 Winchester 70, or a Mauser 98 action too, but tactical, long range, precision and foul weather customs are often built on Rem 700 actions. The fact that the US military and most law enforcement snipers use the Remington action lends credence to the choice for a precision custom. It's always been my choice, and I'll stick with it. The price for a new SPS is usually less than buying an action and bottom metal (hinged floorplate and trigger guard, with action bolts), so that was the reason I went that route. The new build will also be in 7mm RM so buying a long action with a bolt face ready to accept it would save some work. The donor's barrel and cheap synthetic stock will be removed and might make back a bit of money, sold on an auction site, to offset the initial cost, though that's always a crap shoot.
While I will modify the action to lighten it and it will be blueprinted to optimize accuracy, and an aftermarket trigger will be installed, that part of the build will come later and I'll cover that in the next episode. With the action on the way, I sourced two of the most important parts of a precision rifle, the barrel and the stock.
The Stock: AG Composites
There are many options for aftermarket precision stocks. Everything from aluminum chassis systems, heavy benchrest stocks, fully adjustable tactical stocks, and hybrids of the aforementioned, all intended to provide a more stable platform than the typical factory stock. Cheap synthetic stocks bend and flex and are usually a bit heavy, and well,….cheap. Factory wood stocks can be nice to look at but most don't offer enough free float space, are not bedded and as such move around quite a bit with temperature and humidity changes, making for inconsistent accuracy. They can also tend to be on the heavy side and for rough use in foul weather and or mountains, it's just a shame to risk marring a nice wood stock. I love beautiful wood on a gun, but not for this project. For my current project there were a few prerequisites. The stock needed to be very rigid, very light but with aluminum pillars molded in. I want the stock to have a vertical grip with a bit of palm swell, and a slightly higher than usual cheek weld too, but I didn't want a heavy adjustable tactical stock. This rifle is intended for hunting and simplicity. Maneuverability and weight savings is important. I didn't want a heavy, fat fore end, as is common on most tactical stocks.
There are a lot of options that come close to this check list but my number one choice for my last three builds, and for this one is a carbon fiber stock from AG Composites. www.agcomposites.com
AG doesn't have the most recognizable name in the aftermarket stock world, but in my opinion they should. With 100% carbon fiber construction, AG makes an incredibly strong, lightweight stock. Their stocks can be as much as a half-pound lighter than comparable precision fiberglass stocks from other aftermarket stock makers. In the mountains, ounces count. A half-pound of weight savings is monumental.
You may have used an AG stock without knowing it. They manufacture the carbon fiber stock for the Barrett Fieldcraft rifle, which was the 2017 Guns & Ammo rifle of the year.
They also supply the Carbon fiber stocks for the Kimber Open Country Rifle, BULA Defense products and all the Bergara Premier Series rifles, (Stalker, Mountain Hunter & Long Range Hunter). For rifle manufacturers like Kimber, Barrett and Bergara, they ship weekly, and can usually ship product to private customers in less than 4 weeks for custom projects like mine. My AG Composite "Alpine Hunter" model, in "Sagebrush", paint scheme, showed up in about 6 days. That's fast for a premium product like this! The "Alpine Hunter" model is a very light 30 oz. on my scale, with the largest barrel channel, to accept a full bull profile, or a large profile barrel such as those offered in carbon fiber from Proof Research. Barrel and action channels are precisely CNC machined in to provide a drop-in fit. With a slim profile it still sports a tactical style vertical grip, a slightly higher than standard cheek weld and two swivel studs on the slim-ish fore end, and one on the butt, to allow for a bi-pod and sling. All AG Composite stocks are available in a variety of cool color schemes, with designs in high grade, durable paint finishes that are rock solid and provide a bit of texture for a very sure grip, ensuring durable, practical, long lasting finishes.
In addition to the Alpine Hunter model, AG offers the "Prairie Varmint" model and the "Carbon-All Terrain", or CAT model. My custom mountain rifle in .260 Rem sports a CAT stock and it has performed flawlessly!!
AG Composites Co-owner Matt Tandy noted that "AG cures our stocks to 250 degrees F to ensure thermal stability. End users don't have to worry about post curing Cera-kote at 180 degrees, or leaving an AG stock in a hot car in the middle of the summer. There will be no stock warping or cracking due to heat". I can attest, their monolithic stocks are rigid, lightweight and extremely durable.
Look for several new designs from AG Composites when they launch their newly expanded website in the very near future. You'll still be able to find them at www.agcomposites.com , on Facebook, and we'll also keep you posted on their new site here at BackcountryLife Magazine.
Based in the city of New Hope, in Northern Alabama, AG is owned and operated by two former Marines and a former Army Ranger. AG Composites combines military service, aerospace engineering experience and an unwavering dedication to quality to produce a premium product with short lead times and very competitive pricing. In addition to manufacturing aftermarket and private label stocks for retail customers and gunsmiths, AG can take a design from the drawing board all the way to production. They have the capabilities to make molds as well as other tooling, in-house, giving them the ability to be responsive to their customer's needs.
For feather weight, bullet-proof, all-weather stocks, AG Composites is the only choice for me. I've used most of the other high-end after-market stocks out there and while a few are also very good, the incredibly light weight 100% carbon fiber construction provides rigidity and durability in a class by itself and puts AG Composites at the top of the list for me. This custom gun build is intended for mountain hunting and weight savings, durability and all weather performance is critical. AG has the lightest, most rigid stocks, period!
The barrel:
Hart Stainless steel custom barrels.
Perhaps the most important aspect of a custom build, once all the other important factors are accounted for, is the barrel. A gun will only shoot as well as the barrel that guides the bullet. A factory rifle can usually be improved a bit with a good aftermarket stock and trigger but only to a point. A better barrel, blueprinted to the action will take your project to the next level and if you want to shoot high performance projectiles that will provide the utmost in long range accuracy and terminal performance, a custom barrel is the final piece of the puzzle.
For the last 4 custom rifles that I've conceived of and pieced together, and for this current 7mm RM project, I've picked a custom barrel from Hart Rifles Barrels of LaFayette, NY. www.Hartbarrels.com
Hart custom barrels are still handcrafted one at a time, to customer's specifications. Their commitment to extreme rifle accuracy and quality remains the same. They make one grade of barrel…the best!
Custom rifles bearing HART barrels are widely used in benchrest, silhouette, Olympic events, high-power, small-bore and military shooting events, as well as for every type of hunting. HART barrels hold several World Shooting Records in the various shooting disciplines. Their performance in the shooting sports is as good as it gets.
Hart barrels are button rifled with six grooves. All barrels are made to the customer's specifications as to caliber, twist, and contour. Each barrel is contoured on a CNC lathe, then rifled and hand lapped to ensure the best possible interior finish. Co-owner Jack Sutton commented that "Every barrel leaving our shop is individually inspected several times to make sure it meets our high quality standards". I have no doubt as to the quality of Hart barrels. Every one I've used in a custom build, and every one I've ever shot was an absolute tack-driver!
For my project I asked Jack to provide a barrel at .050" over the standard Remington sporter contour, which equates to about a Remington Sendero barrel profile. I asked for straight flutes for weight savings and to help dissipate heat. I specified a 26" finished barrel length. (Hart offers a wide array of fluting styles, including twisted, intermittent and other creative designs, and barrels typically arrive un-cut for length and un-threaded for your action for a custom build such as mine… though they can provide a fully finished barrel and can blue-print it to your action if you send it to them). For my 7mm RM project, an un-chambered, un-cut .284 bore dia., 6 groove, 1:8" twist rifling (best for heavier bullets) spec was ordered. I've used this exact barrel, unfluted, for an earlier 7mm project with excellent results. For my purposes the bullet of choice will be at least 162 grains, and I want to be able to fling bullets up to 180 grains, so the relatively fast twist, (at least compared to factory barrels which for some reason rarely go faster than 1:9.25" twist), of my barrel is ideal. In fact the "fast" 1:8" has proven to be ideal for any bullet weight I've used in 7MM rifles. I've also found this to be true with previous Hart barrels I've ordered in .270 win, with 130-140 grain bullets, in .260 Rem with 120-140 grain bullets, in .243 with 100 grain bullets and in .223 with 55-70 grain bullets. I don't know why factory rifles tend to err on the side of slow twist. Slower tends to make a given rifle, less versatile. In the old days, I think there was a concern of spinning copper jackets off of bullets, but with modern ammo, that shouldn't ever be an issue.
With my "donor" Stainless, long action model 700 in hand, and the AG Composites stock and Hart barrel ready to go, this build will be heading to my gunsmith's shop for chambering and "blueprinting". A new trigger and some customization of the bolt and bolt handle will be detailed in part 2 of this article. Check back in to see our progress. This one will be a keeper! If this project inspires you to embark on a custom build, you can't go wrong with a Hart barrel and an AG Composites stock as a starting platform.
By Brandon Vaughan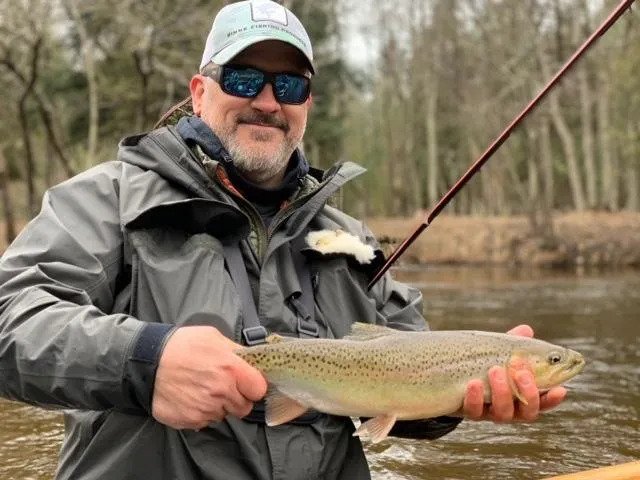 Brandon Vaughan has over 40 years of personal and professional experience in a broad array of hunting and fishing disciplines, from Alaska to Belize. Past professional experience includes working as a professional guide in Alaska and around the Great Lakes region. In addition to hunting and fishing throughout the lower 48, Canada and Central America, Brandon has been an Orvis Endorsed Fly-fishing guide, a fly-fishing and fly-tying instructor, a hunting guide and shooting instructor.