EUREKA, Montana – I could hardly believe my eyes when I parked the rental car and stood on the gravelly brow of the Tobacco River in northwest Montana. Before me, the Tobacco twisted and poured its way hurriedly past fallen firs and balsams, rocks and boulders. Pockets of dark water in the twists and turns and in the shadowy pools of wood surely held trout of various flavors. Why could I hardly believe my eyes? Because this part of Montana had been a bucket-list style vacation for me since I was old enough to buy a fishing license.
Without any other plans for the day – and a mountain of responsibilities on hold back in Michigan – a day on the river presented a mix of adventure and release. The allure in trout fishing for this middle-aged angler is the escape from reality it presents.
Trout fishing isn't about feeding the family – as is the case with perch and walleye – but rather a relaxing, gentlemanly, sport of finesse and strategy.
And oh, the Montana scenery. To say it is spectacular would be an understatement. Just when I wanted to pull over and take a photo of an old barn in a green valley, whitetail deer in a hayfield, or a ribbon of fog against a mountain vista, another picture-perfect setting was just around the corner. When draped in those rugged, forested mountains I couldn't help but feel the joy of independence, unbridled freedom, of fulfilled teenage dreams.
Because of its gravelly swiftness, the Tobacco River in Montana reminded me of Michigan's Jordan River near Boyne City or the Sturgeon River near Wolverine. I could have waded upstream – further up the mountainside – and probed the pockets of cover with a bushy Wulff pattern or hopper. Instead, I tied on a #14 pheasant tail nymph and set out, downstream, into the wilderness.
Even though the river wasn't all that deep, the wading was somewhat treacherous. Rocks and stones of a thousand colors were polished smooth from the glacial waters. Not a blade of sea grass grew in the eddies; no mucky easement in the shallows. I picked up a rock or two and checked its underside for signs of insect life. Nothing. It didn't take long for me to realize the wisdom of what the pros in the fly shops had told me: "The rivers around here are cold and clear. Not much insect life to feed the trout."
Time for me to tone down my expectations. There'd be no 20-inch cutthroats sipping mayfly after mayfly off the water's surface. No 15-inch brook trout or rainbows in my immediate future, either.
But that didn't mean that I couldn't have a good time. It wasn't long before I was making my way downstream, popping the dark water with a favorite nymph. The place was all mine. No cabins, kayaks, canoes or commotion; just the hypnotic whoosh of the fly rod and fly line in perfect synchronicity.
The fishing was as good as it gets. Within the first hour I caught the Montana hat-trick: brook, rainbow and cutthroat trout. They weren't very big, but that was okay. When matched with a 4-weight fly rod and 7x tippet, a ten-inch trout in swift current feels twice as large. All three species of trout looked like they were dressed in their Sunday best. 
By the end of hour two I had landed six or eight other trout, and lost the biggest fish of the day when I tried to set the hook. Not sure how big it was, but judging by the commotion it made when compared to the others I had landed, I'd have to guess it was pushing 16 inches.
The river, the setting, the quiet solitude seemed to swallow me whole. I was lost in all that Montana and Montana trout fishing has to offer. As much as I wanted to spend the rest of summer on that section of the Tobacco, I knew I had to get back.
Instead of making the long haul upstream, I consulted my phone for a map of the area. To my surprise, the river crossed a secondary road not too far in front of me. It seemed like the perfect escape hatch to my wading-upstream dilemma until I heard what sounded like a cough. This wasn't any ordinary cough. Wasn't human. Sounded large, like a big hairy mammal. It was just about then, that I remembered I was in grizzly country. Ignoring the safety advisories about making noise and traveling in groups, I never thought that I'd encounter a grizzly bear while trout fishing. And then I looked around. The stately conifers had given way to brush and bushes that were laden with fruit that I'm certain tasted like lollipops or popsicles to a hungry bear.
What the heck, I thought to myself. This would be a grand way to depart the world – eaten by a bear.
Just the night before, I had taken a video of a big grizzly from the car window. Now I was on foot and the only thing that stood between me and certain death was an aerosol can of pepper.
Quietly, I unzipped the bottom right pocket of my fly vest, pulled out my bear spray and removed the safety trigger. At that point, I thought about all the noise I could have made to let the grizzly know exactly where I was. I tried to whistle Yankee Doodle Dandy but my lips were so dry, I couldn't make a sound.
Boldly, I cleared my throat and hummed Home on the Range, with an extra emphasis on where the deer and the antelope play.
Downstream I went to the bridge, splashing like a herd of elephants. Climbing over rocks in assorted sizes, I scaled the bridge's embankment to the safety of the road. At last, safety.
Once there, I looked back to where I came. The hillsides had given way to a fenced, green valley that was mowed short. Off in the distance, a red barn with a sloping, metal roof stood in the shadows of a wind-powered water pump. It wasn't a bear at all that I heard cough, but rather, a white-faced steer.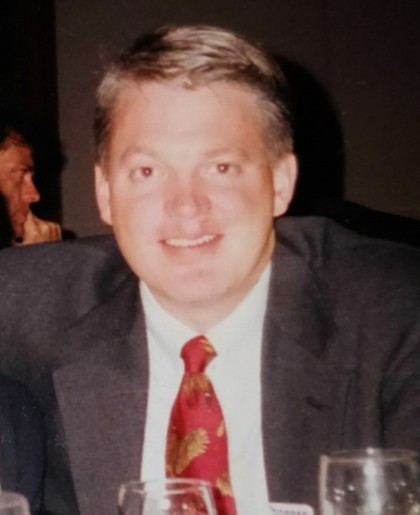 Chris Zimmerman is the author of six Michigan based novels and an independent insurance agent in Shepherd Michigan.  Visit Chris Zimmerman Insurance.